Givenchy's New Eden Bag Is As Customizable As It Is Tempting
Courtesy of Givenchy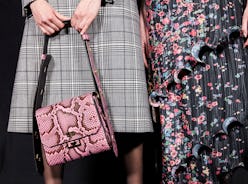 Paired with a long tan coat, sheer tights, and glossy brown shoes, it was impossible to ignore Givenchy's new Eden bag the moment it made its Fall/Winter 2019 runway debut. Accompanying the very first look of the show, the electrifyingly green python bag signed, sealed, and delivered Clare Waight Keller's vision for Givenchy's cool-weathered season — which was appropriately titled "the Winter of Eden." Months later, a darker, croco-embossed version of the bag starred in Givenchy's "Arivenchy" Fall/Winter 2019 campaign (alongside Ariana Grande, of course), effectively cementing it as a rising star in the house's catalog. And lucky for you, it's officially available online starting Aug. 13.
You get to choose between the two oh-so tempting sides of Eden: its colorful, statement-making animal prints, or its polished, everyday neutrals. Size is a factor, as well; the Eden bag comes in five unique sizes, ranging from the roomier Medium Eden bag to the iPhone X-sized Nano Eden bag. Givenchy's signature Double G clasp adorns the front of each bag, a Midas touch that may catch more eyes than the house's name, lettered in gold above it.
Prices depend on your chosen size and material. That runway-opening Medium Eden bag in green python leather will run you $6,990, whereas the smooth-leather Mini Eden bag retails for just $1,350.
Of course, the customization doesn't stop at choosing how your bag will look — you can also switch up how you wear the Eden bag, depending on which one you go for. The Nano Eden bag is a prime example: It can be worn over the shoulder, converted into a belt bag, or attached to one of the larger Eden bags, as seen during the Givenchy Fall/Winter 2019 show.
Likewise, the slightly larger Mini Eden bag can be worn slung across your body or one shoulder when you're on the move. Then, when you want to make a more delicate (and trendy) small-bag statement, detach the longer strap and carry it just by the top handle. The strap on the Medium Eden bag can be detached and swapped out, too — for when it's time to shake things up.
To shop the Eden bag, visit Givenchy.com. Select stores have already begun to carry the bag as of July 2019, with a wider launch to follow throughout Aug. Below, a few shapes and styles of the Eden bag to shop first.