Gigi Hadid Went Full Glam At The Pirelli Calendar Launch
Luca Bruno/AP/Shutterstock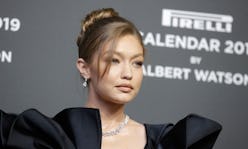 Supermodels rarely shy away from an ultra-glamorous moment, be it walking the runway, sitting front row at an award show, or strutting down the red carpet. Fast-fashion trends may come and go, but timeless pieces like black satin gowns and diamond jewelry will likely remain in style for years to come. Gigi Hadid's black dress is the prime example of what it means to channel Old Hollywood glamour with an updated twist.
The 23-year-old model commanded the red carpet on Weds. before the launch gala for the Pirelli Calendar in Milan, Italy. Hadid stunned in a glossy black satin gown by Zac Posen. The uniquely structured piece featured a square neckline, ruffled sleeves, and a mermaid-inspired hem. She made the look even more luxe with the addition of a bold diamond necklace, teardrop-shaped diamond earrings, a diamond ear cuff, and a sleek matching bracelet. Hadid created this enchanting red carpet ensemble in collaboration with her trusted stylist, Mimi Cuttrell.
No red carpet recap is complete without a nod to all things hair and makeup. With the help of celebrity hairstylist Danielle Priano and makeup guru Patrick Ta, Hadid achieved a slightly elevated version of her usual beauty routine. She pulled back her thick golden hair in a bun placed at the crown of her head, and let her long bangs frame her face on one side. As for makeup, she opted for brown winged liner, her signature feathered brows, and a soft nude lipstick.
This is Hadid's second time as an integral part of the the Pirelli Calendar. Although it was once defined as a pin-up calendar, this year's edition focuses on empowering women by shedding light on their struggles, ambitions, and perseverance. The first Pirelli Calendar was shot in 1964, and since then, 46 issues have been released over 51 years, shot by 35 different photographers.
This year's calendar was envisioned and photographed by Albert Watson, a legendary Scottish photographer famous for celebrity portraits, high-fashion campaigns, and iconic magazine covers. In a sequence of 40 images, Watson aimed to tell the stories of four characters played by Julia Garner, Misty Copeland, Laetitia Casta, and of course, Hadid.
Hadid portrays a woman who recently separated from her partner and lives alone in a glass tower with only one friend, played by designer Alexander Wang. The calendar, appropriately named "Dreams," depicts Hadid as "a woman thinking about her future, but also showing her in a situation of loneliness. We see her thinking about where she is going to go in life, what she will be doing tomorrow," Watson shared in a press release.
Hadid dressed for the occasion at the launch, wearing a look that exuded confidence, strength, and feminine power. The model shared a photo of the event on her Instagram page, tagging the team that helped her construct the luxurious ensemble, as well a caption detailing her excitement to be a part of the project. She wrote, "Celebrating the 2019 Pirelli Calendar in Milano - so grateful to be a part of this iconic collector's item again."