Gigi Hadid Looks Like Every Instagrammer On Your Feed In Her Bike Shorts & Blazer
Pascal Le Segretain/Getty Images Entertainment/Getty Images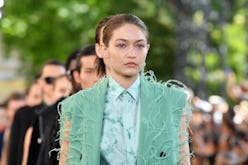 Cycling shorts are possibly the least-expected statement piece to hit the high-fashion scene in 2019. They slithered their way into every Instagrammer's wardrobe last fall and now, nearly a year later, they've found their true match. Bike shorts and blazers have become Gigi Hadid's specialty.
The sisters Hadid were among the first to introduce these polarizing compression shorts to their street style routines. It all started with the ones Bella wore with an oversized checked blazer and a leather beret while in Paris in 2017. She then sported a silver pair with mega diamonds the following spring.
It wasn't until Gigi facilitated a full-on bike shorts display — wearing them pretty much on the daily — in Sept. that the sporty bottoms really took off. Since then, they've been cropping up all over your Instagram feed, most often paired with a single thing.
Oversized blazers are the way to wear cycling shorts this summer, it seems. Everyone from Alicia Roddy of Instagram fame to Kylie Jenner and Chrissy Teigen is on board with this viral trend.
Ringleader Gigi Hadid can't get enough of the outfit, debuting yet another version of it on Mon. She paired a graphic tee and white sneakers with an oversized white blazer and black bike shorts from WARDROBE.NYC.
Hadid's shorts are included in a five- and 10-piece set from the brand's 02 Sport collection while the boxy white blazer is part its 04 Denim lineup.
The neutral colors suited her statement pieces perfectly. There was plenty going on already with those yellow fingernails, the tangerine soles of her Rebboks, and the giant evil eye pendant that hung down over her psychedelic pink tee.
She carried a colorful patchwork bag and accessorized with a spacey pair of white sunglasses because you know she likes to keep her eyewear funky. Overall, it was a heavenly mix of basics and statements.
So, make like your favorite fashion blogger and copy the Hadid-approved blazer and bike shorts combo while the weather still permits it. The Zoe Report's favorite options, ahead.
Shop The Look