If Your Style Is Classic, Put These Items On Your Holiday Wish List
Courtesy of Massimo Dutti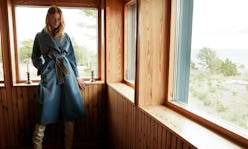 For the woman who has seen Breakfast At Tiffany's 100 times, gift-giving should always start with the classics. Clean lines and neutral colors are this woman's comfort zone, and she's never met a streamlined silhouette she didn't like. Still, before you convince yourself that picking out gifts for women with classic style is so straightforward that it's a bit of a snooze, there are fun ways to surprise her. Sure, it's hard to go wrong with sleek coats, prim handbags and shoes, and of course, jewelry — but finding the freshest takes on them is key.
Her affinity for heritage brands makes them a great place to start, but don't be afraid to experiment with classic styles from up-and-comers too. Cashmere sweaters, wool coats, tailored pants, and prim dresses are all modern classics that will hit a high note for the woman with refined taste. Similarly, a current print like polka dots and sophisticated colors like red, wine, and navy will feel directional yet in line with her classic aesthetic.
In the accessory department, handbags and heels from pumps to ankle boots are fail-safe. "A handbag is an essential part of a woman's personal style. I love the Margaux satchel for someone who's classic," says creative director of Kate Spade New York Nicola Glass. "It has these softly curved edges and molded handles that give it a really feminine and timeless feel — and it's really spacious, so it'll fit everything. She can take Margaux to work or carry it on weekends with an oversized coat and sneakers. It's a classic that's never going to be out of style."
For a fashion-forward kick, Erica Russo, vice present and fashion director for accessories and beauty at Bloomingdale's, likes a piece with animal print, like a foldover clutch from designer Clare V. "The black and white snakeskin print on this Clare V. clutch makes it a great fashion neutral that can be paired with staples like blazers and jeans that are most likely already in her closet."
While clothing, shoes, and handbags are a fail-safe gift for any classic fashion girl, jewelry is always a guaranteed hit from pearls to diamonds. "Pearls are a natural go-to for women with classic style but I prefer to give them a more modern twist," says jewelry designer, Zoë Chicco who's designed a number of pearl pieces with a direction spin. "This pair of earrings mimics the look of a double piercing, giving off a cool-girl vibe, without having to take the plunge on multiple piercings. Definitely not your grandma's pearls," Chicco adds.
Russo says layering necklaces are a stylish go-to for classic tastes, like an elegant locket in yellow gold. "This Sasha Samuel necklace is the perfect piece to add to any jewelry lover's wardrobe." she says. "The recipient can wear it alone or style it with pieces she already owns. Since this is a locket, you can put your personal touch on it to make it extra special."
For the traveler, luxe accessories from gloves to scarves make for a tasteful gift that will always get a lot of use. "Nothing beats cozy cashmere for the perfect gift and this wrap set with a matching eye mask is the perfect accessory for her holiday travels," says Russo.
From so-chic separates to iconic accessories, ahead shop more modern and chic gifts for women with classic style.