Why Getting Married In Your 40s Is A Pretty Unique (And Amazing) Experience
Julien Boudet/BFA/Shutterstock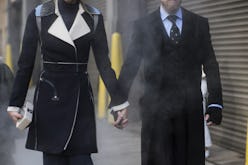 Tying the knot is a truly extraordinary experience at any age. Finding a person you want to spend your life with and potentially start a family with is not something you come by every day. However, for Rachel Matos, getting married in your 40s is extra special in that her partner of choice is a result of years of experience and lessons learned.
Read more: 8 Signs You're Ready To Get Married, According To Therapists
The 45-year-old creative director and owner of digital marketing agency Blue Lotus Collective has been married twice before, once in her 20s and once in her 30s, and has figured out quite a bit about herself and what she wants along the way. "At this stage and age, you really know what you want and don't want," Matos explains. In going through her past relationships, she realized what it is to be with someone through thick and thin, a concept that she didn't truly grasp in her 20s. "I didn't know what illness or responsibilities were back then."
Read more: 10 Signs You've Found The One, According To Relationship Experts
New York City-based relationship expert and best-selling author Susan Winter recently explained in a blog posted on her site that being older allows us to have seen patterns of behavior and assess if the partner in question is worth our time. "Age also provides another perk — we don't have time for nonsense," she writes. "Hopefully, the entirety of our life has shown us a history of our on-going worth— the confidence of what we know to be true about ourselves, in a life fully expressed on every level."
Matos' relationship journey started quite early. In fact, she was in her early 20s when she first tied the knot with her college boyfriend, who was three years her junior. "I just think at that time, I idealized my perception of what marriage should be," she explains. "It was a romanticized ideal. We took on a lot of responsibility." That responsibility included a big move from the East Coast (New York City) to the West Coast (Los Angeles) and eventually the birth of her son, who was born just a few years after Matos was married. Amidst all the change, Matos said she and her first husband drifted apart. "He was 19 and I was 22 when we met," she explains. "So I think we just grew up and grew apart in the end."
In a phone interview, Winter says that in getting married younger (in your 20s and such), you are essentially starting from scratch, which can be incredibly challenging and straining on a young couple. "You have to deal with the issue of children and finances," she explains, adding that one of the perks of tying the knot later in life is that many of these conversations and issues have been determined, established, or understood already.
After about of year of singleness, Matos began a relationship with her second husband, who coincidentally bore many similarities to her first. That familiarity and easy connection felt safe for Matos, and caused her to mistake a "really good friendship with romantic feelings." The now 30-something single mom decided to take a chance and give marriage another shot. "He was a really nice guy and my best friend," she said. "But about a year into the marriage, I realized I wasn't in love with him." Two year after tying the knot, Matos decided to end the relationship and was once again navigating single life.
With her 40s on the horizon and a pre-teen son to raise, Matos said she put dating and romance on the back-burner for a while. "I threw myself into work, and not in a good way," she says. "My son would come into my room at 2 a.m. and tell me to shut off my computer."
That all changed when Matos received a Facebook message from an old high school sweetheart. The two struck up a conversation, stayed in touch here and there, and inevitably made plans to meet in Florida, where Matos was visiting for work. The marketing pro still had her blinders on and said she "thought nothing of it" even after consistent texting and communication following the first date. "The interesting thing was that it was actually just a long-distance friendship that eventually developed into a romantic relationship," she says. "When you're doing the long-distance thing, you're forced to talk and really get to know each other."
The slow-moving situation was also the perfect speed for Matos' son, who was just 12 at the time, and of whom Matos is very protective. "I really wanted to ease my son into this," she explains. "He's been down this road before and I didn't want push this on him." After six months of friendship, Matos and her high school boyfriend decided to go the romantic route, but kept things long distance for some two years.
Shortly after moving to LA, Matos' boyfriend popped the question in 2014. She was 41. The timing of the proposal played quite a big role in this moment in providing clarity and perspective on her relationship, as she was suffering from chronic pain at the time. "I was at my worst and he let me know that he would be there for me through everything," she says. "I've been through serious things with this person and my choice to get married is not because I want to start a family at this point. I know what I want in a relationship —to be valued and have a deeper connection than romanticized love. I think that's something that comes with maturity."
Winter seconds this notion, stating that most women tend to grow into becoming much more independent as they age. "In your 20s being 'hot' is very appealing, but can quickly lose its novelty," she says. "As you get older, I think companionship becomes more important than being 'hot.' Finding someone who is helpful, trustworthy, and not selfish is more of a priority."
That said, four years have passed and Matos has yet to tie the knot or even try on a wedding dress — and she's in no rush to do either. "I'm not prioritizing a wedding right now because it's not as important as finding a connection with someone," she explains. "The ring is a symbol of our commitment."
But that's not to say it won't happen. As she approaches 50, Matos said she's warming to the idea of marriage ... but the ceremony is going to be simple to say the least. " I had the big white wedding with 250 guests years ago, " she says. "This time around, I want something super simple. I just want to say our vows. But, right now, we're just focused on experiencing things together and being in the moment."
It seems Matos' instincts could be right on the money as Winter explains that, statistically speaking, research has shown that couples who marry later in life tend to stay together and essentially create better partnerships. "Being older and wiser makes everything easier," she says. "But only when we apply all that we know, and are courageous enough to trust ourselves to go outside the box and live authentically. We can afford to be bold, to try new things, and know we will be intact at the end of any new journey."