13 Iconic Fashion Muses That Offer Up All The Cold-Weather Inspo You Need
Shutterstock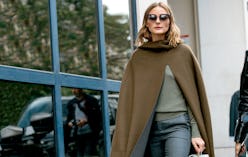 Some people are just meant for fall. Now that temperatures are finally dropping and sweater weather is officially back, there are a select group of classic style icons who immediately come to mind when it comes to transitional dressing and offering the best fall fashion outfits. These women are happy to shed their sundresses and sandals at the first sign of the changing climate and never more content than when they're bundled up in a chunky knit and jacket, with boots and a scarf. When you picture them in your head they're always wearing layers, no matter when it is.
When it comes to the celebrities that fall into this category, the women don't dress alike (and aren't even of the same era). Jackie O. for example still serves as a source of inspiration decades on, while Meghan Markle's outfits offer new inspiration on a daily basis. Below, you'll find all of the fall fashion muses to inspire you in the months to come. So, as you embrace — or at least begrudgingly accept — the new season and start dressing accordingly (hello, scarves and boots), here's who to turn to for flawless fall outfit inspiration when you're in need of some fresh ideas.
Meghan Markle
A relative newcomer to the fashion influencer scene, having only recently traded her role on Suits for the role of Duchess of Sussex, Meghan Markle has already established herself as one of the best-dressed women in Great Britain. Chic moments like this green leather skirt look are becoming routine for the newly minted royal. Plus, it appears she's been taking cues from sister-in-law Kate Middleton, and quickly learning the power of a beautiful coat — just in time for the temps to drop.
Jennifer Aniston in Friends
Rachel Green represents everything there is to love about '90s fashion — and that goes double when it was fall in the New York City-set show. This Season 1 look pretty much sums it up. If a cropped mock-neck sweater, pleated Tartan plaid mini, and knee socks doesn't scream back-to-school to you, what does?
Olivia Palermo
Olivia Palermo never fails to deliver chic sophistication in everything she wears, but she steps up her game at the first sign of autumn. Sophisticated knits, classic tweeds, cozy fur jackets, and luxe leather leggings are staples in her fall outfit rotation.
Sarah Jessica Parker in Sex and the City
Crop tops, mini dresses, and Manolo sandals may be her signature, but Sex and the City's iconic Carrie Bradshaw brings that trademark eclecticism to her fall wardrobe as well. Just look at the expert combination of fur, plaid, and snakeskin.
Mary-Kate and Ashley Olsen
No list of fall fashion muses would be complete without the Olsen twins, whose influence on trends has held strong since their boho grunge days in the late 2000s through to the relaxed refinement of their current luxury label, The Row. Their aptitude for layering and affinity for oversized knits and luxurious outerwear makes them masters of the upscale autumn bundle — a look every New York fashion girl has tried to emulate at one point or another.
Princess Diana
Princess Diana was nothing if not a global icon of style throughout the '80s and '90s. And while she may be better known for her dresses and gowns, her casual ensembles are just as worthy of remembrance and recreation. Diana's off-duty uniform through the cooler months featured high-waisted jeans, sweatshirts, dad caps and western boots. So, basically every trend that is popular now.
Ali MacGraw in Love Story
Sumptuous suede and shearling, camel coats, cozy knit turtlenecks, preppy plaids — Ali MacGraw's wardrobe in Love Story is what '70s fall fashion dreams are made of.
Kerry Washington in Scandal
Every episode of Scandal is like a showcase of the chicest workwear you could ever imagine. The biggest fashion takeaway from Kerry Washington's role as Olivia Pope is that if nothing else, invest in a nice coat and you'll look put together all fall and winter long. Consider your seasonal wardrobe handled.
Jackie Kennedy Onassis
One of, if not the most stylish First Lady ever to grace the White House halls, Jackie O. knew a thing or two about creating a signature style all her own. In the '60s it was skirt suits, pearls, and pillbox hats. In the '70s, her look evolved with the times, and blossomed into autumn gold. No one rocks a trench coat or wool separates, a pussy-bow blouse, and knee-high boots quite like Jacqueline Kennedy Onassis.
Meg Ryan in When Harry Met Sally
It's a toss-up which '90s autumn-in-NYC role of Meg Ryan's had more iconic fashion, but ultimately the felt hats, nubby wool trousers, chunky sweaters and velour blazers put When Harry Met Sally in the lead. Plus, that movie poster with all the colorful fall leaves is just too memorable an image.
Alexa Chung
She may be British, but Alexa Chung's personal style exudes a sort of French girl appeal. If you're in need of ideas for how to translate a mini skirt or feminine frock for cold-weather wear, she's a wealth of inspiration. Whether it's adding ankle boots and a coat, or a striped knit and tights, Chung's got the gamine look on lock — no matter the time of year.
Blake Lively
Blake Lively has been a source of fall outfit inspiration since her days as the Upper East-Side private-schooler on Gossip Girl. But now, she's all grown up and gone are Serena van der Woodsen's cardigans and plaid mini skirts. In their place, is an impressive collection of suits and tailored separates that have become Lively's go-to look lately. Take, for example, this teal velvet ensemble, which she later topped off with a burgundy velvet blazer.
Diane Keaton
If there's something about the onset of fall that makes you want to shop the boy's department for tweedy blazers, heavyweight chinos and penny loafers, you're in good company. Diane Keaton made menswear her trademark throughout the '70s and '80s, but it's especially well-suited to those perfectly crisp fall days.