Gemma Chan Has A Genius Mascara Hack For Straight Lashes (& It Involves An $8 Formula)
Matt Baron/Shutterstock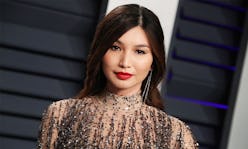 If Gemma Chan didn't become your primary beauty inspiration after the Golden Globes, then she most definitely won you over at the Oscars. Though fairly fresh to the awards show scene, this actor was certainly not afraid to stand out (hence the ruffled fuchsia gown). Now that she's a certified A-lister, Gemma Chan's makeup routine is something everyone wants to copy — and thankfully, you can.
The 36-year-old London-born Brit who played Astrid Leong in Crazy Rich Asians has left the industry enchanted and the rest of us longing for her shiny hair and long lashes. Good thing she recently revealed her beauty secrets during an interview with Allure.
While she might be a red-carpet regular now, you'll be glad to know that Chan is not above using a few things from the drugstore cosmetics department. Apparently, she's particularly familiar with the mascara section.
"I'm lucky I have long lashes, but they're straight and they're very fine, so the most important thing to me is to use lash curlers and then find a mascara that holds the curl," Chan said in the interview.
According to the Captain Marvel actor, Maybelline's The Falsies Mascara (waterproof, for extra-strong hold) does the trick. But, get this: Chan ditches the brush and uses the one from Maybelline's Define-A-Lash formula instead.
Now, that's a hack you've probably never heard of. It seems to work though, seeing as Chan's lust-worthy eyelashes never lack definition. The actor said her mascara brush mash-up "works perfectly to separate and coat every single lash."
She dished on a few of her other favorite drugstore finds, too. She loves, for instance, Boots No7 skin creams. She's worked the Protect and Perfect serum, a face sunscreen, and a night cream into her routine.
Ahead, the super-affordable mascaras Chan uses to perfect her lash hack, along with the other products she swears by.
Shop The Products