GANNI Just Launched A Whole New Category & You're Going To Be Obsessed
COURTESY OF GANNI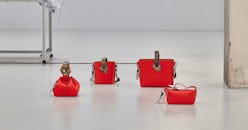 From a favorite floral frock to your most laid-back jeans-and-tee combo, every spring look needs a partner-in-crime. And arguably, there's no better outfit accomplice than the right handbag. After all, it has the potential to not only hold what you need for the day, but bring a whole new element to your outfit. That said, right now you don't need to look any further for that accessory than GANNI's leather handbag collection — a lineup that'll make it easy for you to score a picture-perfect style to have by your side through the summer.
And while the fashion-girl favorite brand has served up stylish bags before — who can forget this super-cute beaded number — this is GANNI's first leather handbag collection. And it's good — like really good. The initial drop includes five silhouettes that were handcrafted in Italy: a small and large drawstring shape, a bucket style, a structured tote, and finally, a versatile crossbody bag. This diverse offering gives you the opportunity to find the right size bag (or bags) for any occasion.
"For me, handbags are an extension of yourself, an everyday essential that you can't live without," said Ditte Reffstrup, GANNI's Creative Director, in a press release from the brand. "We wanted to think outside the box to really create a bag for everyone, that you can wear everywhere. From the girl on the go who carries her entire world in her tote, to a super wearable crossbody for when you only need your phone, keys, and you're good to go."
The collection ranges from $475 to $755, and within the mix of styles you'll see punchy, summer-ready colors like bright yellow and bold red alongside an on-trend baby blue hue as well as an unexpected metallic green. Of course, for the neutral-inclined shopper, you'll gravitate toward styles in a shade of deep brown as well as classic black.
And leave it to GANNI to put its own unique spin on these bag shapes. But really, that should come as no surprise, as the Copenhagen-based fashion label hasn't become a go-to for stylish women internationally for no reason. The collection's offerings incorporate eye-catching details from tortoiseshell hexagonal acetate adornments and striped shoulder straps to a detachable leather GANNI logo that can also be used as a keychain.
On top of that, the bags were designed to be multi-functional, making them that much more worthy of a spot in your closet. Take the $475 Leather Hand Bag for one: It has a strap that allows you to swing it over your shoulder or wear it across your body for days spent running around town. As for when you're headed to dinner? Remove the strap to make it a chic top-handle shape, or opt to slip it under your arm as a clutch.
You don't want to wait to shop this launch though, as several of the bag styles are (unsurprisingly) already running low on stock. Continue on to start scooping up the five silhouettes below, and head over to GANNI to view the rest of the available colors — before they're all gone.