This Natural Beauty Brand Is Launching A New Nail Polish Collection & It'll Have You So Excited For Fall Shades
ImaxTree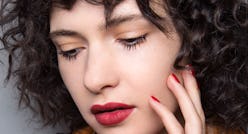 While you may be embracing nail polishes in bright bold hues and citrusy shades this summer, come autumn, it's those equally eye-catching deeper hues you'll likely be after. You know, those rich jewel tones that'll pair well with all your favorite fall looks. And, as luck would have it, you won't have to look very far for a luxe emerald green or a vibrant purple given these shades (and more) are within the soon-to-launch Disco Mood nail collection from Gabriel.
On August 6, the natural beauty brand is releasing a lineup of five glam shades that — as the collection name alludes to — bring disco dance-floor vibes. The polishes will be available for $8.50 each, or you can opt to scoop up the whole set for $24.50. And considering they're vegan, gluten-free, and non-toxic as well as "10 Free" (aka they're free of formaldehyde, toluene, DBP, camphor, and other icky ingredients), you might as well grab all of them.
In the mix there are four gloss shades, and the first three include a dark fuchsia called "Hot Pants," an emerald green titled "1977," and a powerful purple hue dubbed "Disco Queen." Of course, if you're after a classic deep red, you can go for the fourth glossy option named "Velvet Rope." And while you can definitely just pick one color to swipe on, since these shades all play nicely together, consider trying a few on different nails for a jewel-tone rainbow effect.
Rounding out the group is "Stardust" — a shimmering blue-green polish that'll come in handy when you need a hint of sparkle for the holidays (hey, it never hurts to start thinking ahead). And if you don't want to do every finger in the shade, it'll be perfect used for an accent nail.
Speaking of sparkle, you can pick up Gabriel's new color "Chrome" (aka a disco ball in nail polish form) for $8.50 to really up the shine factor. The metallic silver gloss will match up well with the brand's new collection of colors, and it'll also let you have some fun with your at-home mani.
So, if you're in the market for new polishes for fall, don't wait until summer is over — circle August 6 on your calendar to shop Gabriel's collection of shades that are perfect for the season and beyond.