The Unexpected Ingredients Fresh's New Face Wash Uses To Both Brighten & Cleanse
Sephora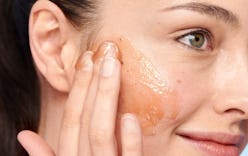 Cult beauty fans probably know all about the magic that is Fresh's Sugar Face Polish, a dual face mask and scrub that's become a staple in the skincare world. They may even be aware of the polish's not-so-secret exfoliating ingredient: strawberry seeds. But even those well-versed in all things beauty may've never heard of the ingredient in Fresh's new Sugar Strawberry Exfoliating Face Wash that gives it its cleansing prowess. The under-the-radar ingredient is new to Fresh, too; this never-before-seen face wash is the first time the brand has used it.
They're called soapberries — and apparently they're as naturally-cleansing as they sound. Fresh's new face wash contains an extract from the soapberry peel, otherwise known as Sapindus mukorossi peel (which is how it's listed on the wash's ingredients list). Starting at the beginning of June, the innovative face wash will be available in Fresh stores, on the brand's website, and at the beauty retailer Sephora; where it's already accumulated over 200 reviews in a matter of days. One 125-milliliter bottle of product will cost you $33 wherever you pick it up — a small price to pay for the multi-step formula.
Because this face wash isn't just a cleanser or exfoliator. It's a mix of both steps, with a dose of toning strawberry extract to boot. "This exfoliating cleanser is the experience of putting fresh strawberries on your face, with a helping of sugar to gently micro-polish while you wash. Since Sugar Face Polish is such a beloved product, I wanted to flip the ingredients and make strawberry the star," Fresh co-founder Lev Glazman explained in a press quote.
Fresh also notes in the product description that you can highlight either the face wash's cleansing side or its exfoliating scrub, depending on how much water you use. After applying the product to damp skin, you can use just a dash of water while you massage it in to create a more exfoliating effect. Splash on more for days when your skin needs a gentler, easier cleanser. "Or lightly wet your face and leave it on for 3 to 5 minutes for deeper cleaning," Glazman added.
Regardless of how you use it, Fresh points out online that the face wash is mild, making it safe for everyday use. Which may be one of the reasons Fresh's fans have already fallen in love with the new product. The only thing left for you to do? Grab yours from the link below.