The NYE Dress Of Your Dreams Is Under $100 At Free People Right Now
Free People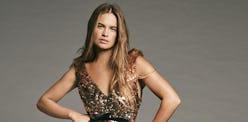 It's a safe bet to say that you probably own something by Free People. The affordable boho brand has been spotted on A-list celebrities and stylists since its peasant dresses and velvet kimonos skyrocketed it to fame. While you've probably turned to the store's feminine clothes for everything from wedding parties to date nights, have you thought of checking out the Free People dresses on sale for your upcoming holiday party needs? Because there are pieces with all the glitter and shine you want and, for the most part, they fall under $100.
Is this the year you're finally going to wear all sequins for New Year's Eve? If you answered yes, then the Sequin Siren Mini Dress is for you. Available in a mermaid-approved green, rose gold, and silver, the dress is marked down from $168 to $99.95. Each colorway comes with a black velvet bow that somehow it works with each of them, though the vibes of each three dresses are very different. While the rose and silver colorways are appropriate for any party, snag the mini in the green colorway for dress you can wear easily after the holiday season — it sparkles like a New Year's Eve dress, but doesn't have the traditional NYE color palette.
Grab Free People's French Girl Mini Dress if you're in need of a more muted glitter effect. The vintage-inspired dress has a mock neck and a throwback matching fabric belt with '60s circle buckle. Play into the retro aesthetic by pairing the gold dress with black tights and a beret, or the purple colorway with a fluffy, oversized jacket and thigh-high boots. Regularly $108, the dress is on sale for $69.95.
You will probably spot the strapless, midriff-baring Bon Appetit Jumpsuit on someone you know — or on Instagram, at the very least. While not a dress, the silky jumpsuit hits so many fashion trends of the year (wide legs, pajama pattern, two piece sets) in one easy-to-wear piece. Just slip it on, pair it with black leather boots or heels depending on your mood, and you're good to go. Buy it while it's on sale for $149.95, over half off the original $350 price.
New Year's Eve will be here in the blink of an eye, so it's best to solidify your night-out look before the holidays get away from you. Ahead, 9 dresses that are sure to wow all night long — and thanks to this sale, won't break the bank, either.