Frankie Shop Will Have Deals On All Its Insta-Favorite Pieces For Black Friday
SHUTTERSTOCK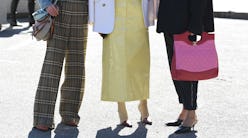 As your list of holiday shopping must-haves continues to grow, make sure to designate some funds for the deals that are still to come. Yes, there are retailers who are still staying true to the traditional one day of shopping that is known as Black Friday. One such sale you'll definitely want to take note of (and perhaps star on your list) is the Frankie Shop Black Friday Sale. From Nov. 22 (at midnight ET) through Nov. 23 (at midnight PT) you'll be able to snag the pieces you've been eyeing for 10 percent off with the code thanksgiving10.
A fashion-girl favorite shopping destination, Frankie Shop's sale will be occurring in both its brick-and-mortar store located in New York City as well as online, and you can use the discount code on everything except charity items like No More Plastic cans. It's also worthy noting that the store will be giving 10 percent of its sales on Thanksgiving day to the Camp Fire Evacuation Relief Fund in California – so while you're shopping, you'll also be contributing to a good cause.
If you aren't yet acquainted with the well-curated store, this is the perfect time for an introduction, and you won't be disappointed. And, for those of you who check the site daily, a sale makes for the ideal time to snap up those styles you've seen all over Instagram.
A great place to start shopping the sale is with the new arrivals, as it's filled with lust-worthy outerwear in shearling, faux fur, and patent leather. A discount on already wallet-friendly prices makes for an exciting sale, especially on typically higher-priced items.
Maximalist will love the Caramel Patent Shearling Coat, which combines a patent leather shell with shearling trim in a rich brown hue. During the sale you can score this standout style for $359.10, down from $399. Looking for something more streamlined? Take a look at the Deep Navy Wide Rib Corduroy Long Coat. Once $245, the coat will be $220.50 on Black Friday.
Stock up on knits in a myriad of colors during the sale, including the trend-forward double sweater. Now is the time to hop on this cozy style while you can get it for less. When the sale kicks off, grab the Heather Grey Attached Double Sweater for $148.50 (originally $165) and shop it for a lucky friend in a different color.
If you're feeling denim fatigue, Frankie Shop is the place to reinvigorate the wardrobe options for your bottom half. Its offerings include trousers in everything from corduroy and wool to vegan leather. One such style that can be dressed up or down as easily as a pair of denim, is the Distressed Vegan Leather Black Pants. Starting at $142, you'll be able to slide into this wide leg pant for $127.80 come Friday. Meanwhile, the velvet and satin styles featured on the site will provide holiday-ready options for all the seasonal parties filling your calendar.
Don't overlook the accessories, either, as you can walk away with a croc-embossed bag for under $100 while the sale is on. The photo-worthy rectangular bag started at $105, but you'll be able to own it for $94.50.
Get prepared to shop ahead of the sale, so you can be sure to get all your favorites before they sell out. Continue on to see top styles to add to your wish list.