Fleur & Bee Is The New Brand Making The Affordable Vegan Skin Care You've Been Waiting For
Courtesy of Fleur & Bee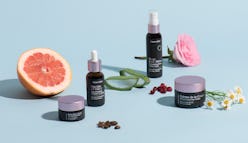 You aren't super late to the party if you haven't yet heard of Fleur & Bee; the all-new skincare brand only launched its product line on April 4. However, it's time to get to know the brand if this does happen to be your first time hearing about it. With an affordable first launch and a growing social media following, the California-based brand is redefining what transparency really means in the natural beauty industry.
According to Fleur & Bee's website, the brand was started because its team noticed three things about skin care: Products contained "harmful ingredients", weren't as effective as they should be, and cost way too much. Fleur & Bee strikes back at those three trends — each new product is vegan, natural, and retails for under $35. And the word "natural" is more than just an advertisement buzzword to Fleur & Bee; all of the products are gluten free, paraben free, sulfate free, and have no artificial fragrances. Beyond that, the line is cruelty free and, according to product descriptions, free from harmful preservatives.
"It is so crucial that consumers know what they are putting in and on their bodies," Matthias Hug, Fleur & Bee's Founder and CEO, said in a press email. "We only have one, and we need to take care of it as best we can. Just as eating healthy foods are important, so is being mindful of the different products we put on our skin."
Fleur & Bee's launch started with just four core products; Rose and Shine rose water toner, Eyes Eyes Baby eye cream, Crème de la Cream moisturizer, and a vitamin C serum named Nectar of the C. And while the ingredients are natural, that's not to say they aren't powerful, too. You'll be able to spot buzzy skincare ingredients like squalane (in the eye cream), ferulic acid (in the serum), and vitamin C (in the serum, of course, but also the moisturizer).
Fleur & Bee's skin care knows when to be simple, too. The rose water toner contains just two ingredients: distilled water — which surprisingly has plenty of benefits all on its own — and rose flower oil. In a world of long ingredient lists, the simplicity is a welcome change of pace.
"Wanting to create the best possible product, we went through several iterations to make sure we arrived at products that are safe and effective," Hug noted. "We made sure to test our products on all kinds of skin, oily, dry, and sensitive. We ended up with products and formulations we're proud of and have tested very well on all skin types."
Ahead, all four new skincare products from Fleur & Bee's launch.