Fenty Beauty Released A New Version Of Its Fan-Favorite Primer & It's Exactly What You Needed For Summer
Courtesy of Fenty Beauty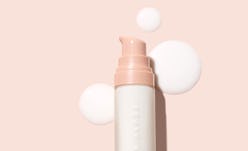 Fenty Beauty's timing has always been impeccable. Lead by its fearless founder Rihanna, the beauty brand stays in step with the seasons — whether it's releasing a lip scrub as winter winds down or dropping a natural-looking bronzer a few months before summer. And with the release of Fenty Beauty's new Pro Filt'r Mattifying Primer — which landed online July 19 — you may be wondering if Fenty Beauty somehow knew this heat wave was coming. As you may've guessed, the new primer shares a similar formula as the original Pro Filt'r Instant Retouch Primer; except this time, it's specifically tailored to mattify combination and oily skin.
Available on Sephora's website and at FentyBeauty.com, the Pro Filt'r Mattifying Primer retails for $32 a pop, the same exact price as the original Pro Filt'r primer. You'll be able to find it in store at Sephora once Aug. 15 rolls around — both at brick-and-mortar Sephora stores and Sephora locations inside JCPenney.
However, you should know that there are a few key differences between the new summer-proof primer and Fenty Beauty's OG cult favorite. The brand calls out blue agave extract (or "Agave Tequilana leaf extract") as a major mattifying player in the Pro Filt'r Mattifying Primer's product description, and notes a dose of blurring powders give the primer its famous "filter-like effect." "I wanted to create the ultimate anti-shine primer that's especially great for oily skin, and this is it," reads a quote by Rihanna herself on Fenty Beauty's website.
How you use the new primer depends on your skin type, too. If you do have oily skin all over, you can apply a thin layer of the primer across your entire face — it'll help keep your makeup locked in throughout the day and minimize shine. However, those with combination skin can try a different approach: Just dab on a smaller amount to wherever your skin typically produces the most oil (like across your T-zone).
Regardless of how you use it, Fenty Beauty promises the new Pro Filt'r Mattifying Primer will be just as lightweight as the first Pro Filt'r Instant Retouch Primer formula. So, keep on scrolling down if you're in need of something heavy duty this summer — Fenty Beauty's latest primer is ahead.