If You're A Fan Of Fenty Beauty's Match Stix Shimmer Skinsticks, You'll Be So Excited About This New Update
Sephora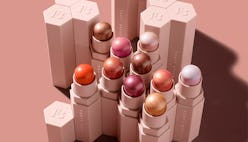 Say hello to one of the easiest-to-use makeup launches of the summer. Two years after first hitting shelves, Fenty Beauty's Match Stix Shimmer Skinsticks are getting an extra five new shades added to their colorful lineup on Aug. 23. And unsurprisingly, the new colors — which function as blush, highlighter, contour, and more, depending on the shade you choose — are just as versatile as the original 10 shades.
"I like to look at these Shimmer Skinsticks like I look at my clothes in the closet. Am I doing fun? Am I doing alien? Am I doing weird? Am I doing sexy? Am I doing extra? Am I doing girl next door? You choose," a quote from Rihanna herself in a press email explains. "The point is, there are so many and they're so fun."
Three of the five new $25 Shimmer Skinsticks in question may fall into the traditional blush family: There's "Bordeaux Brat", a sparkly wine shade, "Pink Lemonade", a summery bubblegum pink, and "Beach Bum", a warm rose gold. The other two new colors — "Cognac" and "Champagne Heist" — are a little more open ended. You could use "Cognac", a glittery bronze shade, as a highlight, contour, or bronzer, depending on how it works for you.
"Champagne Heist" may not be as versatile — but it'll definitely be as popular. It's described as a champagne-colored highlighter; meaning it may be similar to the bubblier shades from the the cult-famous Killawatt Freestyle Highlighter collection.
The big difference between Fenty Beauty's traditional highlighters and the Shimmer Skinsticks is the presentation, though. To start, the Shimmer Skinsticks use a cream-to-powder formula, allowing you to use it on the go. Then there's the fact that each Shimmer Skinsticks tube is magnetized — allowing the collection to click together with the compatible blending brush (and the Matte Skinsticks collection). "You can just collect them, magnetize them, and use them as you please depending on your mood, your outfit, and where you're going," Rihanna continued.
Pick up the new Shimmer Skinsticks when they arrive Aug. 23 at a brick-and-mortar Sephora location, or online at FentyBeauty.com or Sephora.com. Below, all five new Match Stix Shimmer Skinsticks shades.