FENDI Releases A Touching Statement On Karl Lagerfeld's Death
Vittorio Zunino Celotto/Getty Images Entertainment/Getty Images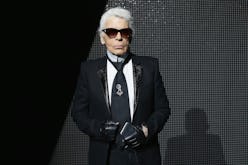 As the world mourns the loss of Karl Lagerfeld — an iconic designer who died Feb. 19 in Paris — the fashion houses he served have begun to speak up. Reflecting upon the icon's legacy, FENDI reacts to Karl Lagerfeld's death with a touching statement detailing the decades-long relationship between the designer and the house.
"I am profoundly saddened as today we have lost a unique man and an unrivaled designer, who has given so much to FENDI and to myself. I was only a child when I first saw Karl. Our relationship was very special, based on a deep and very genuine affection," Silvia Venturini Fendi, FENDI Creative Director for Menswear, Accessories, and Kidswear, said in the press release. "We had a lot of mutual appreciation and endless respect. Karl Lagerfeld has been my mentor and my point of reference. A blink of an eye was enough to understand each other."
Lagerfeld's legendary relationship with FENDI began in 1965, when the five daughters of founders Adele and Edoardo Fendi — Paola, Anna, Franca, Carla, and Alda — hired him on. After half a century of artistry, FENDI praises the creative director's famous ready-to-wear and fur designs, as well as his ad campaigns, haute couture, and overall creativity.
"Working with Karl Lagerfeld at FENDI allowed me to catch a glimpse of the secret of the continuous renewal of the House," reads a quote by Serge Brunschwig, FENDI Chairman and CEO, in the same press release. "I profoundly admire Karl's immense culture, his ability to rejuvenate at all times, to taste all the arts, to not overlook any style, along with a persistent refusal to turn to his past, to look at his work in a mirror."
And Lagerfeld's celebrated work ethic is touched upon, too. "He was restless and his exigent nature would never leave him," Brunschwig went on to say, remembering how Lagerfeld would react at the end of each show — a time when other designers might relax or unwind. "Karl would always say, 'and now number next!'" Brunschwig recalled.
Both Fendi and Brunschwig note in the statement how much they personally will miss Lagerfeld. "For FENDI and myself, the creative genius of Karl has been and will always be our guiding light, molding the Maison's DNA," Fendi said. "I will miss him deeply and always carry with me the memories of our days together."