Celebrity Hairstylist Frédéric Fekkai's New Haircare Line Is Arriving At Target Very Soon
Courtesy of FEKKAI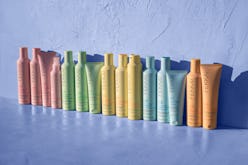 "It was important to carry on the legacy and the heritage of the FEKKAI brand," Frédéric Fekkai tells The Zoe Report in an email. The topic is FEKKAI — a new haircare line from Frédéric Fekkai, currently available on the brand's website and launching in-store and online at Target on Jan. 13. If you feel like you've heard his name somewhere before, you're not alone; Fekkai is the founder and owner of the iconic haircare brand The One by Frédéric Fekkai (as well as a celebrity hairstylist, whose clientele has included Hillary Clinton and Martha Stewart).
"It was also important to listen to our customers, launching products that address their needs — color vibrancy, volume, strength, shine, and moisture," Fekkai continues. "Today we are much more educated about the impact of ingredients in our beauty routines and we are also very sensitive to the state of the planet. It was very exciting to create hair products that would enhance beauty but also address sustainability and responsibility."
FEKKAI approaches these topics from two fronts: packaging and formula. The brand's expansive product line — which is split into five collections based on needs like color care and volume — is wrapped up in 95 percent recycled plastic bottles that are 100 percent recyclable once you're finished with them. The hair care itself is made sans silicones, parabens, pthalates, and sulfates, using vegan and cruelty-free practices. "We couldn't do without these ingredients years ago, but today the technology and the availability of other substitutes allows us to create effective, high-performing formulas without them," Fekkai explains.
From there, shoppers get to choose which product collection best complements their hair. Pick from the reparative Technician Color, shine-boosting Brilliant Gloss, volumizing Full Blown Volume, damage-healing Super Strength, and Baby Blonde — a collection that approaches blonde maintenance in a new way. "The Baby Blonde collection is not tinted," Fekkai says. "It's great for subtle brightening for existing blondes. It is formulated with French chamomile extract, French lemon fruit extract from Provence, and salicylic acid to help gently highlight hair over time."
Better yet? Every single product in the collection retails for $20, with smaller $5 sizes available from certain selections. To peruse them all, visit FEKKAI's website, or Target starting Jan. 13. Ahead, a few new products from the FEKKAI line.