This Under-The-Radar Brand Just Created The Perfect Vacation Shoe For Summer
Courtesy of FEIT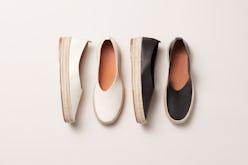 There are plenty of things that seem to go hand in hand with summer: a glass of rosé, picnics at the park, swimsuits, and of course, summer Fridays. The anticipation of the upcoming season has everyone planning out how they'll use their time off, whether it's simply spending it outside or heading somewhere exotic for a vacation. If you happen to fall into the latter category, be sure to add FEIT's hand-sewn espadrilles — another summer staple — to your packing list. Without a doubt, these will be some of the chicest (and most comfortable) shoes you take.
San Francisco-based footwear company FEIT, according to its About page, was created by Tull Price as a response to the volume and mass production found in the fashion industry. As a result, the brand makes each of its shoes by hand using natural materials, and FEIT's espadrilles are made with the same level of quality and care.
Though the woven shoe style has been around since the 13th century, the $500 Espadrille Ballet is a leather slip-on that takes a modern approach to the timeless style. According to the product description, the shoe features a natural jute-fiber wrap around its cork sole. These shoes also include a cork footbed, making them perfect for days of sightseeing you might have planned for your trip.
FEIT also launched the Espadrille Court, $550, which features a lace-up tie to resemble a sneaker in addition to the fiber wrap. Each shoe is made with a semi-cordovan leather upper — which molds to the shape of your feet as you wear them — that's hand-stitched and cemented directly to the sole.
Both the Espadrille Ballet and Espadrille Court are available in black and white to suit your style. However, because each espadrille — like the rest of FEIT's shoes — is made from start to finish by one person, there are only 40 shoes made in each color. So if you're thinking about making these your shoes for the summer, you'll want to act fast.
Sleek and minimal in design, these espadrilles will go with anything you wear. Style them with a pair of your favorite worn-in jeans and a loose-fitting button-down shirt to embrace the relaxed lifestyle of the European coast while you're on vacation. Once you're back from your getaway, you can easily wear them with a pair of wide-leg trousers and a blazer.
Scroll down to shop each of FEIT's new espadrilles below.