Farmacy's Cult-Favorite Cleansing Balm Is On Sale & Ships For Free During Cyber Monday
Farmacy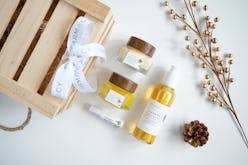 Of all the different sales announcements that land in our inboxes on Cyber Monday, some of the best ones involve products that not only feel good on you, but are also good for you. Enter, Farmacy, the cruelty-free and natural skincare line that'll have you feeling as fresh and clean as the ingredients inside. If you haven't already given this beloved clean beauty brand a try, you'll want to get in on Farmacy's Cyber Monday Sale, which is offering a site-wide discount for up to 30 percent off. Now you can without feeling guilty about the what's inside, or how much you spend.
From now until midnight, everything on Farmacy's website is discounted at 20 percent when you use the code CYBER at the checkout. When you spend $120 or more, you'll receive 30 percent off of your purchase. And, if you live within the United States, you'll also get free shipping for your order — it doesn't get better than that. Whether you're looking to get someone a gift set for the holidays, or just want to add a few products (and then some) to your own beauty closet, you'll want to act fast, as some of the brand's products have already sold out.
Take this opportunity to stock up on cult-favorites like the brand's best-selling Green Clean Makeup Meltaway Cleansing Balm, normally $34, which will gently remove makeup and environmental impurities without drying out your skin. Or, if you're looking for a hydrating mask to treat yourself with, this Honey Potion Renewing Antioxidant Hydration Mask, $38, to revitalize your skin, and then finish off your skincare routine with the corresponding Honey Drop Lightweight Moisturizer, $45 for the ultimate hydrating experience. On the other hand, if you want an easy stocking stuffer, these $6 Coconut Gel Sheet Masks are the perfect affordable items for your and your friends to all get in on for a day of pampering.
In the chance that you're braving the dry winter weather, keep your skin safe with this Honey Savior All-in-One Skin Repair Salve, which costs $34, can be used on everything from your hands, lips, cuticles, elbows and more. And, it's the perfect size to throw into your purse for everyday use. If that isn't enough, throw in a tube of Honey Butter Beeswax Lip Balm for added moisture to your daily routine.
Have a skincare fanatic on your holiday shopping list? Farmacy has a number of kits that will fill their every need. Give them a taste of some of the brand's best-selling products with The Mighties Antioxidant Powered Hydration Kit, $45, or prep them for the upcoming travel season with the Take It To Glow Travel Essentials Kit, which is currently on sale for $40 (and that's before the discount). No matter what you get for them, these products will easily be welcomed into their beauty routines.
Now, scroll down to see more products that are up for grabs on Farmacy's website this Cyber Monday — and be sure to shop them now before they sell out.