This Luxury Site's Under-The-Radar Vintage Section Has Chanel, Dior, & Louis Vuitton
Shutterstock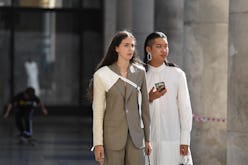 You already know Farfetch as the retailer where you can find the cult designer pieces that have sold out everywhere else. Since Farfetch works with both brands and boutiques, you can often find that ultra-rare Prada bag or sold-out By Far shoes listed by a retailer in Tokyo, Amsterdam, or NYC. But, what you may not yet know is that Farfetch's vintage section is also stocked with designer pieces. The site's pre-owned section is one that may fly under the radar — until now.
"The selection comes from our boutique partners around the globe, making it a super unique," explains Celenie Seidel, Farfetch's Senior Womenswear Editor. "If you're looking for a Fendi Baguette, a Jean Paul Gaultier mesh top, or a Louis Vuitton x Takashi Murakami tote, you're bound to find it." So, if you're a shopper that is constantly perusing The Real Real, eBay, or even local consignment shops, then you'll want to add it to your rotation too.
With the return of throwback trends like the '90s-era baguette, chunky chain necklaces, and boho tie-dye, building out your wardrobe of pre-owned originals is a unique (no chance of duped outfits) and earth-friendly way to be a part of the trend cycle. "Pre-owned designer items are the ultimate luxury items, really," notes Seidel. "There's something so nice about knowing an item has a history and a story to tell, and that as the new owner of that item you're continuing its story and lifespan. In a time where everyone is growing increasingly more aware of the importance of circularity, finding pre-owned items you love and connect with is a great, more conscious way of investing in fashion."
If you're in the market for a luxe statement piece, then consider styling it in a way that let's it uniqueness shine. A polished ensemble — say, a blazer and jeans, or a silky slip dress — is the perfect foil to a cool throwback logo bag or a pair of colorful-cool mules. Styling vintage pieces together is an especially easy way to showcase your personal aesthetic, and to approach major trends in a more individual way.
Below, find a few favorite items from Farfetch's vintage selection to help you get started on your throwback wardrobe.