This Insta-Favorite STAUD Bag Is 40 Percent Off At Farfetch — Along With 9 Other Chic Purses On Clearance
Silvia Olsen/Shutterstock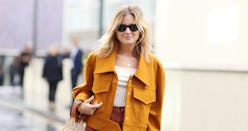 If you've been biding your time to purchase the trendier bags on your wishlist, your patience has finally paid off. Right now, you can scoop up so many of those swoon-worthy styles you've been lusting after during Farfetch's clearance sale. The savings event is brimming with Insta-worthy purses from the likes of STAUD, Chloé, and more, that are all up for grabs for so much less.
At this point in the season, you would have had to take an Instagram hiatus to not spot STAUD's rope bucket bag hanging on the arms of so many members of the fashion crowd. And it's easy to see why it gained such popularity among editors and influencers; the versatile style can bring a cool sartorial spin to pretty much any outfit you throw at it. So, if it tops your list of must-haves, you'll be very pleased to see a couple of versions of the shape have been reduced significantly, including this black leather and PVC bag that's now down to $195 from $325.
Within the mix of markdowns there's also a slew of bags from fashion-girl favorite brand Cult Gaia, including a selection of its popular acrylic silhouettes. However, you'll also find its equally eye-catching tassel shapes are in the clearance section, like this green Angelou Tote. Once $328, the swingy style now rings in for $164, and it'll easily match up with fall outfits when the summer comes to a close.
Of course, if you're looking for more of a minimal style that's just as photogenic, there are plenty of streamlined silhouettes to pick from, too. First, take a peek at Nanushka's Large Belt Bag (now $307 from $438), which can be worn at your waist as well as across your body. Or, you can opt for the clean lines of WANDLER's Structured Shoulder Bag for a reduced price of $587.
That's just the beginning when it comes to this sale though, so continue on to see nine price-slashed purses you can add to your lineup to use for the rest of summer and beyond.