Everlane's New Boot Is The Fashion-Girl Way To Do Rain Gear In 2019
Courtesy of Everlane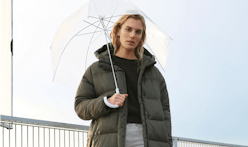 There are days you just can't escape wearing wearing rain boots: it's pouring, and even dashing from car to office door will result in waterlogged flats or soaked heels. Despite its necessity, Everlane's new rain boot wasn't exclusively made for rainy days. The brand's rubber Chelsea rain boot was crafted to be sleek, comfortable, and stylish enough to wear even when there are no clouds in the sky.
Better yet, the rain boot is available in five, outfit-complementing colors — and each one only retails for $75. The first of its kind from Everlane, the rain boot dropped on the brand's website Feb. 4 after being teased on Instagram days before (and garnering 20,000 likes). You probably aren't surprised that fans couldn't wait to get their hands on the boot: spring is around the corner, and before you can enjoy May's flowers you have to trudge through April's showers.
Though you may not be able to call walking in Everlane's rain boot trudging. Everlane states on its website that designing a seriously comfortable rain boot was the brand's goal with this shoe. The boot itself is made from flexible rubber, so it won't stay stiff as you walk; the brand even included videos of a model walking in each color of the rain boot just in case you need to see how it moves with your own eyes.
Everlane didn't simply find the right rubber to make a flexible boot and call it a day, too. The brand went with a Céline-esque Chelsea shape, a choice that makes the boot less distinguishable from non-rain gear styles and completely optimizes the shoe for the rain. The lowered boot shaft reduces ankle chafing, the blocky lug sole provides tread and, as you probably know, having a Chelsea boot's stretch panels never hurts.
Everlane also factored in that shoppers, particularly those with city commutes, often can't skip walking long distances even when it's raining. The brand designed a custom insole for the boot with amped-up heel cushioning to make walking to work in the rain less of a hassle.
Most importantly, though — more so than a cushion insole or stretch panels — the rain boot will actually work with outfits instead of against them. You can pick between a totally black rain boot, or one of the four colors with black details. Of course, Everlane and its eye for essentials expertly pared down the entire rainbow to four versatile shades: a warm toffee, surplus green, blush pink, and a pale grayish beige named "Stone".
Although the rain boot is available in sizes 5 through 11, Everlane's online store is already indicating some color and size combinations are running out. But did you expect anything less from yet another highly-anticipated release from the brand? Keep scrolling down to decide which color you need to have this spring while each one is still in stock.
Editor's note: This article has been updated from its original version.