Essie Launched Its First-Ever Summer Trilogy & The Color Options Are Basically Endless
Walmart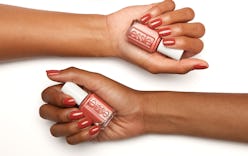 There is a strange, nail polish-centric phenomenon no one seems to really talk about, yet you may be going through right now: getting stuck in a nail color rut. Sure, rainbow manicures are trending, but you may still find yourself asking for your go-to pink every time you visit the salon — or the same shade of red, or the low-key nude that blends into your skin tone. If you find yourself experiencing nail ennui, Essie's latest launch may be just the fix you need. Besides ushering in a whopping 21 new shades, Essie's Summer Trilogy collections mark a major first for the popular nail polish brand: This is the very first time Essie has launched three complementary collections — featuring three separate nail polish formulas — that tell one cohesive color story.
There is one catch, though; the polishes won't be available on Essie's own website until later in July. However, you are able to shop all three parts of the Summer Trilogy now, as long as you know where to look. Your first stop should be at Ulta's website, where you'll be able to find Essie's Gorge-ous Geode collection; the six holographic nail polishes provide all the summer sparkle you could ever need. They also give you your first hint to the theme of the Summer Trilogy, which was inspired by the natural beauty of earth. Think crystals, cliffs, and natural metallics — like gold and, of course, geodes.
Meanwhile, the soft pink tones of Essie's Rocky Rose collection will attract die-hard "Ballet Slippers" fans — three of the collection's nine shades rival Essie's cult-favorite nail polish. (Calling it now: The shade "Come Out To Clay" is the new everyday pink polish everyone will be wearing this summer.) Featuring Essie's classic nail polish formula, Rocky Rose also offers a few bold terracotta shades, as well as skin-complementing nudes. And lucky for you, a handful of shades from the collection are already available at retailers like Walgreens and Walmart.
To find the final step in the Summer Trilogy — the Sunrush Metals collection — you'll need to head on over to Target's website. The six gleaming, metallic hues are made from Essie's Gel Couture formula, which means you will have to apply Essie's special Gel Couture top coat to seal in the shades. However, the Sunrush Metal colors are worth the extra time you (or your manicurist) spend on them; the collection features gorgeously unique nail polishes, like "In My Element", a muted, metallic lavender.
Ready to take the Summer Trilogy plunge? Keep scrolling to browse 10 shades from all three collections, and make sure you keep an eye on Essie's own website for the entire trilogy's July release.