Ericka La Pearl's Makeup Hacks Include This $5 Cult Product — And A Trick You've Never Tried Before
Dimitrios Kambouris/Getty Images for NARAS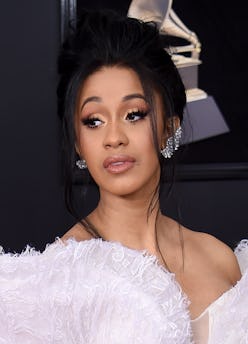 The runway shows and street style inspiration during fashion week were great and all, but there's an unsung icon that most people might be forgetting: Cardi B. The artist changed her look frequently — she wore head-to-toe leopard print one moment and a metallic pink pantsuit the next — but one thing remained consistent: her flawless makeup, courtesy of Cardi B's makeup artist Erika La Pearl.
The Zoe Report caught up with La Pearl, who's been Cardi's collaborator since her reality television show days. "I like how she allows me to do whatever," La Pearl tells us about Cardi's makeup philosophy. But that doesn't necessarily mean bold eyes and bright lipstick on the daily. La Pearl takes her outfit into consideration when she's deciding how glam to go — and since Cardi's style is decidedly statement-making, La Pearl says, "I always like to do a neutral eye."
Ahead, La Pearl walks us through exactly how she creates a beauty look for Cardi B from start to finish, including how to find the right foundation shade and the number one makeup rule for moms. Even if Cardi's go-to look isn't what you're after for everyday, La Pearl's techniques, tips, and tricks are surprisingly relatable — especially ahead of Halloween and holiday season.
1. Dermaplane For Flawless Makeup Application
On the phone with The Zoe Report, La Pearl reveals that she preps Cardi B's skin with Stacked Skincare's Dermaplaning Tool prior to makeup application. "It scrapes off your dead skin cells and it smooths out the skin," she explains. "When I put on foundation after, it's a smooth surface."
La Pearl also sends Cardi to BeautyFix Town House in New York City for its CryoSkin Face Toning Treatment, an anti-aging facial that uses cold temperatures to stimulate circulation and boost collagen production, because "it instantly lifts her face."
2. Use Moisturizer To Prep The Skin
After dermaplaning, La Pearl applies moisturizer to Cardi B's skin in lieu of primer. "I always use the Ponds moisturizer on her," she says, calling the under-$5 drugstore staple a personal favorite.
3. Mix Two (Or More) Foundation Shades To Find The Right One
To get the perfect match for Cardi's skin tone, La Pearl often mixes two or more foundation shades. "The main one is the Marc Jacobs Shameless Youthful Look Foundation, and I mix that sometimes with a L'Oreal foundation or sometimes with a NARS foundation, just to give her that good cool tone."
4. Start Light
La Pearl notes that even as a makeup artist, it can sometimes be challenging to nail the base shade on the first try — especially when working with people of color. When in doubt, she opts for a lighter foundation, then warms it up by layering darker powders on top. "Go a little lighter on the foundation, then work your way in with the powders," she advises. "Use a darker foundation powder and bronzer on top to bring the look to life."
5. Don't Be Afraid To Mix High And Low
Yes, La Pearl loves a good NARS concealer and Pat McGrath palette — but she swears her makeup kit is full of affordable drugstore products, too. "I love L'Oreal, and CoverGirl is pretty good." she says. "Those are my top go-tos." For an easy high-low mix, La Pearl suggests saving on a lower-end foundation and splurging for a high-quality shadow palette for optimal drama.
6. Pair A Neutral Lid With Color
"I like to do a neutral at the top of the lid and then a pop of color under her eyes," shares La Pearl. "The Mothership V Palette from Pat McGrath is everything to me right now." She loves it because the bronze-heavy palette has every color you need to create both a neutral eye and a statement eye — plus, the shades are guaranteed to pair perfectly with each other.
"For [her look at] Dolce & Gabbana, I used Blitz Flame under Cardi's eyes to give her that exotic look, then used Astral Luna Gold on her lids," she outlines. La Pearl then defines the eyes with Flawless Lashes by Loretta Flawless Eyeliner because "it doesn't crease or anything. It doesn't smudge."
7. Try Matte Liquid Lipstick As Eyeliner
Remember the light blue eyeliner Cardi B wore while performing for Dolce & Gabbana? It turns out, that wasn't an eyeliner at all. "It was actually a lipstick, a matte liquid lipstick, believe it or not," La Pearl reveals. "I used that as an eyeliner because it doesn't move."
8. Take Your Fake Lashes From Day To Night
Fake lashes may seem like a lot for daytime, but La Pearl swears by Tatti Lashes in TL3, saying, "They're in between natural and cool." To keep the lashes from looking over-the-top, she suggests keeping your eyeshadow neutral.
9. Dust Highlighter On Your Cheekbones And Collarbone
"Ofra's highlighters are amazing!" La Pearl gushes, noting they particularly pop on darker skin tones. "There are two I love: Space Baby Highlighter and Could 9 Highlighter. Those two are to die for." For an all-over glow, she brushes the shimmery powder on Cardi B's cheekbones and chest.
10. Rehydrating After a Flight is Key
Cardi B is constantly traveling, which can wreak havoc on the skin — but that's not an issue reserved for celebrities. Everyone can use La Pearl's favorite post-flight treatment: Dr. Lancer The Method Nourish Moisturizer. She says Cardi follows up every flight with a layer of this moisturizer, which features peptides and antioxidants to keep skin extra plump and hydrated.
11. Break The "Rules"
When I asked La Pearl if she and Cardi B have toned down the glam factor since she gave birth to daughter Kulture Kiari, La Pearl laughed. "We like to be more glam. We've actually stepped up our glam. We gotta step it up, honey!"
But really, would you expect anything less from Cardi B?