Emma Roberts Has A Smart Styling Trick For Color Coordinating
Phillip Faraone/Getty Images Entertainment/Getty Images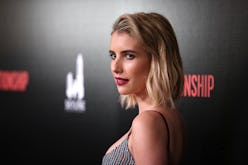 Emma Roberts just singlehandedly brought back the '70s. Her puffy-shouldered floral sweater, cat-eye sunnies, and flared jeans made for the ultimate throwback outfit as she bopped around a Los Angeles flea market on Tues. Emma Roberts' maroon shirt is simultaneously a blast from the past and the key to your future looks.
Flower power was the theme of the American Horror Story actor's latest ensemble. Roberts sported the most retro half-sleeve sweater with puffy shoulders and dainty hot-pink flowers. The sweater is part of Kate Spade's Spring 2019 collection — not available yet, sadly — which is inspired by the feminine prints and silhouettes of the '70s.
Roberts ran with the vintage look, pairing the sweater with high-waisted, cropped and flared jeans that frayed at the hems. She managed to match the brand's "rhubarb jam" color to a pair of slightly-heeled, suede loafers adorned with pearl bauble accents. And for the final touch, her Miu Miu cat-eye sunglasses were a crimson color, too, adhering to the monochromatic motif.
The rich maroon hue wasn't the easiest color to match with, but Roberts seemed to find the perfect accessories. Often times, all-one-color outfits can be too much of a good thing, but you'll probably agree that Roberts' was just enough.
The concept of matching accessories to a sweater is so '70s in itself. The entire Spring 2019 collection — marking the debut of new creative director Nicola Glass — was reminiscent of floral prints, old-school color schemes, flared silhouettes, and more.
In Sept., actor Gillian Jacobs sported Roberts' sweater to the New York Fashion Week presentation, where she sat alongside Priyanka Chopra and Kate Bosworth in the front row. Unlike Roberts, Jacobs played down the retro vibe, pairing her sweater with a button-front skirt and strappy sandal heels.
Roberts' deep maroon, however, is the perfect hue for cold weather. Match your top with your accessories the Emma Roberts way with these monochromatic pairings curated by The Zoe Report, ahead.
Shop The Look