Emma Roberts' Spring Wardrobe Is *All* About Graphic Tees — Here's How She Styles Them
Dave Kotinsky/Getty Images Entertainment/Getty Images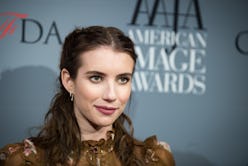 Just when you thought Emma Roberts' style couldn't get any better, she ends up putting together an even cooler outfit than the last. The rules of fashion simply don't apply to this natural-born trendsetter, and if they did, she'd be quick to break them. At the foundation of Emma Roberts' look is a good old-fashioned graphic t-shirt.
It's not really like the actor to stick to a formula — in fact, she tends to switch up her style daily — but those who keep a close eye on Roberts' innovative outfits might have noticed a certain common thread. All of her recent looks include one easy-as-can-be starting point, and that's a graphic tee.
A retro rock n' roll tee is the one piece hanging in everyone's closet. Roberts' must be stocked with a hundred or more, seeing as she wears them just about every day without ever repeating a look.
The one she wore out on Thurs. was a vintage Walt Disney World tee featuring Epcot Center's Spaceship Earth Dome circa 1982. She tucked it into a pair of burnt-orange flared pants, aligning with the old-school theme, and layered a relaxed flannel shirt over it.
Earlier in the week, Roberts wore another rocker tee — this time with Journey's band logo — with high-waisted jeans and edgy moto boots. Before that, it was a white ZZ Top t-shirt with rolled sleeves that she balanced out with contrasting gold-toned ballet pumps by Dior (which she's actually worn with a graphic tee more than once).
A vintage band tee doesn't always have to look so hardcore. Roberts somehow manages to put a chic spin on the grungy trend. You, too, could stand to take a page out of the actor's book by pairing your best thrift store find with other nostalgic staples. Or, channel her bolder looks by wearing it with ultra-feminine pieces (flowy skirts, ballerina flats, and the like) instead.
Shop The Look