It Took 16 Products To Create Emily Blunt's 2019 Golden Globes Glam
Jon Kopaloff/Getty Images Entertainment/Getty Images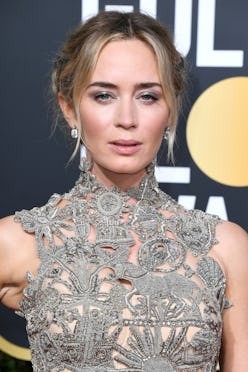 During the first awards show of this year's circuit, Emily Blunt's hair and makeup at the 2019 Golden Globes stopped traffic both ways: She wore a glamorous Joan of Arc-inspired low updo, fastened with a glistening barrette. And her makeup, done by Jenn Streicher for Dior Beauty, was effortlessly glowy and gorgeous.
"Emily's beauty look was very much inspired by her dress, which had incredibly intricate medieval-inspired embroidering," Streicher tells The Zoe Report. "For her makeup, we wanted to create a look that was very Joan of Arc — something quite warrior-like but still soft and beautiful, using metal tones against dewy skin. I brought a lot of the dress' metal tones into her makeup — which was very centered around the eyes – using silver tones from the Dior Backstage Cool Neutrals palette throughout balanced by a soft neutral lip."
To start, Streicher prepped Blunt's skin by pressing the Dior Capture Youth New Skin Effect Enzyme Solution into her skin with her hands, followed by the Dior Capture Youth Intense Rescue Age-Delay Revitalizing Oil-Serum for glow. Before applying foundation, she primed with Dior Capture Totale Dreamskin Advanced and then followed up with the new Dior Forever foundation in shade #1N, which has a matte velvet finish and was designed to adapt from day to night.
"Because I really wanted this look to last, I think it's very important to use a long wear foundation," she says. "This one wears for 24 hours."
Regarding application, she says she likes to "paint the foundation onto the skin and then blend it in with a Beauty Blender." Oh, and another trick? She added a bit of the serum to the foundation for even more glow.
To brighten Blunt's under-eyes and dark spots, she used the Diorskin Forever Undercover Concealer in #010 Ivory. And to contour, she swept on the Dior Backstage Contour Palette in #001 Universal right underneath her cheeks. For blush, she blended in the Dior Rosy Glow Lolliglow in #002 right on the apples of her cheeks, blending it up and back towards her temples. And of course, you can't have a red carpet look without a killer highlight — so Streicher chose the Diorskin Nude Luminizer Lolli'Glow in #008 Pink Delight underneath the eyes and atop her cheekbones.
For the eyes, Streicher used the Diorshow Mono palette in #554 Minimalism, focusing the silver shade of the Dior Backstage Eye Palette in #002 Cool Neutrals into the crease. On the lashes, Streicher layered mascaras — the Diorshow Maximizer 3D, along with Diorshow Mascara — in #090 Pro Black. "I love using a lash primer as it allows for just one coat of mascara so you don't have to worry about the lashes not separating or clumping," she notes. On the brows, she used a bit of Diorshow Bold Brow in #011 Light, noting that she brushes the brows up first and then lays them in the right direction, she says. "This allows the brow hair to be coated, which creates a fuller brow look."
Finally, she applied some Dior Lip Sugar Scrub in #002 Raspberry before blending a custom color from the Dior Backstage Lip Palette in #001 Universal Neutrals. "I always like to exfoliate the lips before applying lip color," she notes. "It makes for a smooth canvas and easy application."