EM Cosmetics Just Introduced Its First-Ever Brow Products With 2 Exciting New Launches
Kelly Taub/WWD/Shutterstock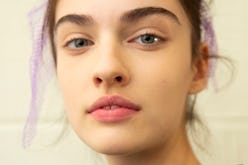 More likely than not — whether you learned from your mother's guide through makeup or from the pages of a teen magazine — you already know the most important rule to eyebrows: Less is not always more. In fact, full brows are having a major moment, and their popularity doesn't seem like it's going to be slowing down anytime soon. So if you're looking to step up your brow game and join the rest of the world in the quest for this bold trend, you can't go wrong with EM Cosmetics' Fine Liner Brow Pencil.
Diving into the eyebrow category with the introduction of the brow pencil and the Micro-Fluff Sculpting Brow Cream, it's clear that EM Cosmetics knows what it's doing. These two products will make shaping your brows an effortless two-step process, and in an era when everyone wants to make their morning routines as quick and efficient as possible, it couldn't get better than that.
When it comes to defining your eyebrows, precision is everything. Luckily, EM Cosmetics has you covered with the $18 Fine Liner Brow Pencil. This pencil has an ultra-fine tip for you to shape your brows with feather-like hair strokes for a natural look. Available on EM Cosmetics' website, you can get this easy-to-use brow pencil in five different shades: Blonde, Light Taupe, Brunette, Deep Taupe, and Ebony. And that's not all — this pencil also comes with a built-in spoolie brush, which will make creating envy-inducing brows a seamless affair.
Once you've outlined and defined your eyebrows to perfection, use the Micro-Fluff Sculpting Brow Cream, $19, to give your look a boost of volume. EM Cosmetics' second brow product comes in four different shades — Soft Blonde, Classic Brunette, Universal Taupe, and Soft Ebony — to match your skin tone and hair color for a statement-making brows that won't take over the rest of your beauty look.
The brand's new brow cream is a hybrid wax-gel, which will firmly set your brows in place without leaving a stiff finish. It's also made with a fiber-enhanced formula that will help build volume off of your strands, leaving you with brows that could make Brooke Shields jealous.
If all of that sounds good to you, scroll down to add these brow products into your beauty routine, stat.