e.l.f. Cosmetics' New Skincare Collection Lets You Try This Trendy Ingredient (At Drugstore Prices)
Courtesy of e.l.f. Cosmetics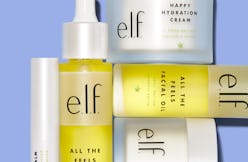 As far as cannabis-inspired skin care goes, the packaging for e.l.f. Cosmetics' new Cannabis Sativa collection is on the chic side. You wouldn't know that it contained hemp seed oil — aka THC- and CBD-free cannabis sativa — unless you spotted the tiny leaf and pale green text printed on each bottle, jar, and tube. (Although the Puff Puff Primer's name also may give it away.)
And even though it contains one of the buzziest skincare ingredients around, you can pick up the entire e.l.f. Cosmetics collection at Target for less than $40. For example, the All the Feels Facial Oil — perhaps the most exciting addition in the lineup — only retails for $12; and yet, it features a vegan, cruelty-free, and Target Clean-approved formula made from that aforementioned hemp seed oil, moisture-boosting squalane, and antioxidant-rich rosehip oil. Even better, the oil itself is surprisingly lightweight, absorbing quickly into your skin (so you can actually layer it into your skincare routine).
Then again, the Cannabis Sativa collection's new $5 lip balm — appropriately named Calm Balm — may be first on your must-try list if you battle chapped lips throughout winter. The mega-moisturizing balm is made from a bevy of skin-soothing oils, such as hemp seed, sunflower seed, meadowfoam seed, and jojoba. It doesn't hurt that the sleek, white tube is stylish, too.
More into the makeup side of things? Then add the $8 Puff Puff Primer to your collection. Created with a dose of skincare know-how, e.l.f. Cosmetics' new makeup primer uses hemp seed oil and hyaluronic acid to add even more hydration to your routine. The brand notes in the product description that it won't take long to absorb, either — so you'll be able to quickly get to applying whichever complexion products are next in line.
Finally, snag the collection's $12 Happy Hydration Cream for the easiest way to add hemp seed oil into your own skincare mix. The rich moisturizer gets its kick from vitamin B5, hyaluronic acid, and niacinamide — another fan-favorite skincare ingredient known best for its ability to calm down redness.
Ready to give hemp seed oil a whirl? You can grab e.l.f. Cosmetics' new collection online at the brand's website or on Target.com. Below, the entire new Cannabis Sativa collection.