ELEMIS' New Primer Shows The Skincare-Makeup Hybrid Trend Is Here To Stay
Courtesy of ELEMIS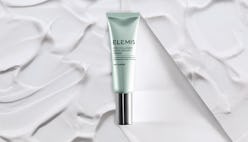 It seems like you can't escape skin care in 2019 — not that you probably want to. These days, lipsticks double as balms, foundations work like moisturizers, and a new beauty product's skincare benefits can outweigh any serums already in your bathroom cabinet. It's a magical time to be a skincare enthusiast, and it's one that seems to have legs in the beauty world; especially if you consider the fact that luxury skincare brands like ELEMIS are getting into the makeup game. ELEMIS' Pro-Collagen Insta-Smooth Primer landed on the brand's website this June, and it's one of the many exciting makeup-skincare hybrids ushering in a new era of beauty.
It's a thrilling step for ELEMIS as a brand, too. "This primer truly blurs the lines between skin care and makeup," reads a quote by Noella Gabriel, ELEMIS co-founder, in a press email. "The hybrid formula works harder than a traditional primer to create the perfect canvas for makeup and to provide a flawless, more youthful look, even without makeup," she added.
One 50-milliliter tube of the primer will cost you $78 — and, according to the product description, you only need a small dab of the product to achieve the effect. Fine lines and pores stand no chance against the Pro-Collagen primer; the brand claims that smoothing on just a dollop of it will hydrate and firm your skin in 15 minutes.
You'll definitely be able to tell when the primer is working. ELEMIS' Cryo-Firming Complex — one of the primer's key ingredients — has a soothing, cooling effect on skin, which will serve as a reminder of where you placed the product (and help make sure you don't miss any spots). More importantly, the complex will boost skin's hydration levels via the brown algae bladderwrack and glacier water.
And the primer isn't the only skincare-makeup hybrid ELEMIS has up its sleeve. Landing mid-July, ELEMIS' Pro-Collagen Rose Hydro-Mist is one bottle you'll never want to leave home without. Part on-the-go serum, part setting spray, the $68 mist is formulated with an organic English rose hydrolat, the Mediterranean algae Padina Pavonica, and an antioxidant-rich microalgae.
"The story of this beautiful mist-in-serum begins on a gorgeous, family-owned farm deep in the English countryside. There, up to 17 different varieties of roses are steam distilled to produce organic rose hydrolats," Gabriel explained. "With a just-right pH level between 4 and 6, these soothing waters are perfectly suited to soften the skin, leaving the complexion looking and feeling wonderfully refreshed."
Sound like just the thing your beauty routine is missing? Ahead, both new (and soon-to-be-released) ELEMIS products.