Beyoncé's Stylist Is Selling One-Of-A-Kind Pieces From Her Personal Collection On eBay Right Now
Courtesy of eBay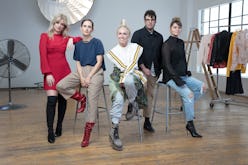 Have the holidays come early? It seems so, as eBay has gifted shoppers with the opportunity to own styles right from top Hollywood stylist's personal collections. Yes — the website you have scoured for vintage finds and sold-out pieces has tapped stylists to the stars including Karla Welch, Ilaria Urbinati, Marni Senofonte, Mariel Haenn, and Rob Zangardi to launch eBay's first-ever 'Fall Stylist Sale'. With clients such as Beyoncé, J.Lo, and Justin Bieber on their rosters, there are some real gems to be had.
From Sept. 25 to Oct. 2, you have access to the stylist's coveted collections that total over 60 pieces exclusively for eBay. Their selects include seasonal must-haves, wardrobe staples, and pieces inspired by (and even worn by) their A-list clientele. You can have a major moment in a bodysuit worn by Gwen Stefani in her "Misery" video, walk a mile in Justin Bieber's Balmain quilted leather loafers, and hit the dance floor in a Michael Costello jumpsuit worn by J.Lo.
"We've brought together the industry's most powerful stylists to create an event that reflects what's happening in fashion today," said Renee Paradise, senior director of Fashion at eBay, in a press release. "These tastemakers shape the looks that inspire the world of fashion, and this sale gives the eBay community exclusive access to the ultimate insider's collection."
In addition to the celebrity-worn pieces, you can also shop collectible items such as an Adidas tracksuit, a one-of-a kind "Beychella" sweatshirt (from Beyoncé's stylist Marni Senofonte), and designer pieces from Balenciaga, Gucci, Valentino and more.
As part of eBay for Charity, all of the proceeds from the 'Fall Stylist Sale' will go to a cause of the stylist's choice, which includes ACLU, Create Now, The GOOD+ Foundation, and The Trevor Project.
With each stylist bringing their own styling aesthetic and clientele to their collection, there's no doubt you'll find a piece (or two) that will have you placing bids left, right, and center. Shop statement styles from Senofonte's collection such as lust-worthy Givenchy lucite mules, and head to the collection created by Welch (stylist to not only Bieber, but top actresses like Sarah Paulson, Elizabeth Moss, and Tracee Ellis Ross) for timeless essentials.
"I wanted to think about what made a perfect wardrobe and what were classic pieces," said Welch in a video for eBay. Not only is her collection composed of wardrobe staples like a Calvin Klein trench coat and a black leather moto jacket, but her own personal reversible shearling jean jacket from her Levi's x Karla collaboration is included as well.
Mariel Haenn and Rob Zangardi, the dynamic duo behind the show-stopping looks on Jennifer Lopez and Gwen Stefani, will have you pulling out your credit card with the accessories in their collection. Included in the mix is a white leather studded bag from Valentino and statement sunglasses that were worn by J.Lo herself.
Rounding out the group is Ilaria Urbinati's collection, which you won't want to miss the chance to shop for the men in your life. The stylist to some of the best dressed guys on the red-carpet, including Donald Glover, Rami Malek, and Ryan Reynolds, has a Tom Ford three-piece suit worn by Bradley Cooper up for sale.
Why not begin your holiday shopping a little early? Login to your eBay account and start placing your bids stat.