Dyson Vacuums Are Up To 42% Off For Day 2 Of Prime Day & 4 Other Incredible Deals That Will Sell Out Fast
Dyson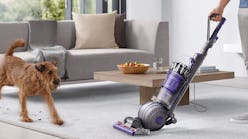 Sure, the fashion deals, makeup discounts, and furniture sales happening all across Amazon's website for Prime Day may be tempting. But this year, you may have your sights set on something more particular during Amazon's major two-day savings event: Dyson vacuums, which Prime Day two has discounted up to 42 percent off. Who says spring cleaning can't continue into July, anyway?
OK, you may be just in the market for any vacuum cleaner that'll get the job done — whether it's a name brand or a cult favorite. Fortunately for you, Amazon's Prime Day includes vacuum cleaners for under $100; and yes, the affordable models have enough glowing reviews on the brand's website to show they're worth a buy. Take the RoomieTEC Cordless Vacuum Cleaner for example: It has more than 1,000 reviews and is discounted to just $89.99 (from $129.99) for Prime Day. Turns out upgrading your cleaning game doesn't have to break the bank.
Still stuck on the fact that you'll be able to save hundreds on Dyson models, though? Continue scrolling down. All five vacuum deals from Prime Day two you can't miss are below — including how you can save almost $250 on the Dyson Ball Animal 2 Vacuum.