The Dyson Vacuum With A Near-Perfect Rating At Target Is On Sale Right Now
Target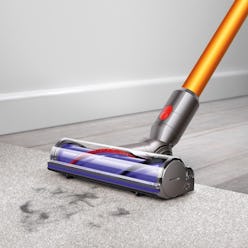 Let's be real: There's nothing wrong with indulging in the latest trendsetting fashion pieces and cutting-edge gadgets for the holiday season, but sometimes the best purchases are the ones you that serve a more, well, practical purpose — especially when they can contribute to alleviating your housekeeping duties. As the new year gets closer and closer, more likely than not, you're probably carrying the "out with the old and in with the new" mentality everywhere you go, and if you're ready to give your home a fresh start for 2019, why not shop the Dyson vacuums on sale at Target?
Though a vacuum may not be the most interesting thing to find among the rest of your holiday presents, investing in a high-quality cleaning appliance (and as a result, your home) is always a reason to get excited, no? So, if you're in the market for a new vacuum, Target's selection of Dyson models, which are marked up to 42 percent off, will fulfill your every need, whether it's an easy handheld style or a heavy-duty upright one. And considering how expensive these typically sell for, you'll rarely find a better deal than this.
That said, shopping for something like a vacuum, which you know you'll use for years, can often be overwhelming. Not to worry, though — with a little bit of extra research (and the help of fellow shoppers), you can find out exactly which one will suit the needs of your home.
Of course, sometimes there are specific models that everyone can agree on, like the V8 Absolute Cord-Free Vacuum, which is currently on sale for $349.99. With a near-perfect rating (based on 1,615 reviews, no less), you can't ignore the rave reviews this vacuum, which many fans describe as light and easy to maneuver in your space. With that in mind, along with the fact that the vacuum is marked down 30 percent from its original $499.99, this is one deal you just can't pass up.
If you're looking for something that'll take on a little more work when it comes to cleaning your home, this Small Ball Multi Floor Upright Vacuum, which is 25 percent off at $299.99, also has glowing reviews. You'll be pleasantly surprised at how much it'll pick up for being so lightweight and love the ease of movement, which is always welcome when it comes to larger appliances.
Want the most out of your purchase? The Ball Animal 3 Upright Vacuum is marked down at $289.99, which is 42 percent off from its original price. Plus, it comes with extra attachments so you can get to those hard-to-reach areas of your space.
Just in case you're also looking for a smaller handheld vacuum to have at a moment's notice, the V7 Trigger Cordfree Handheld Vacuum will be the most hassle-free tool to use when cleaning up smaller areas and is marked down to $179.99.
Now that you've gotten a head start on your shopping, scroll down to see more of the Dyson vacuums on sale at Target below.