Duckie Thot Is L'Oréal Paris's Newest Spokeswoman, Because She's Worth It
L'Oreal Paris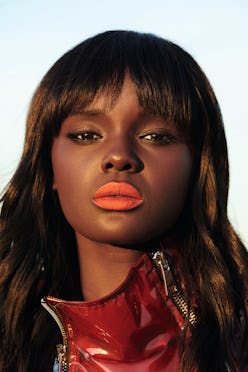 During New York Fashion Week's Spring/Summer 2019 shows, you could bet money on a few consistent backstage sightings: City Bakery chocolate chip cookies on the catering table (no complaints there), Smith's Rosebud Salve Balm in everyone's makeup kit, and Duckie Thot in a far-off corner getting glammed up, cracking up at her Instagram comments or chatting up her fellow models. The 22-year-old Australian-Sudanese beauty opened and closed some of the buzzier presentations throughout the week, like Laquan Smith and Christian Cowan, and is continuing her reign over in Milan. Oh, and she also nabbed a spot in the Victoria's Secret Fashion Show in the midst of all that, too. But you didn't think her best month ever was coming to a close, did you? No way, no how.
Thot was named L'Oreal Paris's newest global spokesperson, joining the ranks of Camila Cabello, Aja Naomi King, Eva Longoria, and more. The honor isn't just another notch on Thot's belt, though — she's using this opportunity as a huge moment of representation, as the fashion and beauty worlds still fails to represent all ethnicities.
"I'm honored to represent L'Oréal Paris, a brand that celebrates infinite ways to be beautiful and makes products for all women," Thot said in a press release provided by the brand. "I'm looking forward to helping more girls love the beauty of their dark skin. In my mind, I'm going back in time and telling the young girl I was: 'Dream big, work hard and trust in yourself girl because one day you're going to say 'yes' to the number one beauty brand!"
In an industry where blacklisting is still a real peril, Thot has always used her platform to shed light to the blindspots backstage and in front of the camera. While competing on Australia's Next Top Model in 2013, Thot was forced to cornrow her own hair because an on-set stylist couldn't do so. In fact, she admitted to bringing her own supplies to set, as many hairstylists and makeup artists don't know how to do her hair and makeup.
"When the makeup artist pulls out their palette and they've got 20 different shades of foundation for a white girl, but only have four "darker" shades... It's those type of situations that [Black models] are put in and not catered to," she once told Teen Vogue. "That shouldn't be our responsibility to uphold or something we need to go the extra mile every single time for on a job. But unfortunately, that's the case. By constantly challenging and pushing at [these discrepancies] I hope we will eventually make a difference."
And it looks like she's succeeding, at least according to L'Oreal: "Duckie Thot knows how to use her voice to match the strength of her images," Pierre-Emmanuel Angeloglou, L'Oréal Paris Global President, continued in the release. "Her energy and message of inclusivity makes her a perfect recruit for the L'Oréal Paris family: original and confident in her self-worth. We're delighted to welcome Duckie for her to continue motivating women to believe in their own beauty around the globe."
Congrats, Duckie!