These Super Expensive Dr. Brandt Skincare Sets Are Up To 50 Percent Off Right Now
Dr. Brandt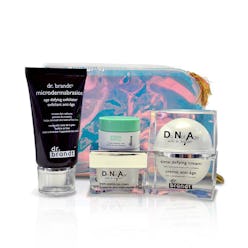 Just in case you weren't already aware, there are only a few more weeks left in the holiday shopping season. Amid the hectic state of heading to and from stores as you search for the perfect gifts to give all of your friends and family, it's easy to feel stressed out. However, if you're looking for some purchases that'll make this time of year a little easier on you (as well as your wallet), the Dr. Brandt sale will be the best go-to for your last-minute shopping needs.
With just enough time to get your gifts for the holiday, Dr. Brandt is offering up to 50 percent off on all of its gift sets. So, whether you're looking to try out some a new set of skincare products or just want to give the beauty lover in your life an all-inclusive set to start off with, this is the way to go. The only catch? This sale is going for a limited time, which means you'll want to move fast to these products before they all sell out.
Considering the variety of products that the leading skincare brand carries, any one of their kits is well worth the purchase — especially for half the price. For those who are just starting out with the brand, try Brandt Buddies Kit, on sale for $19.99, which includes four travel-sized versions of essentials from the line such as Water Booster, Hydro Biotic Recovery Sleeping Mask, Microdermabrasion Age Defying Exfoliator, and No More Baggage. This kit is the perfect starter pack for anyone. You can also buy the Skin Rejuvenation Kit, $78 with the sale. This kit includes products such as the Magnetight mask to give your skin a detox, as well as Needles No More Wrinkle Smoothing Cream and Pore Refiner Primer, both of which will give your skin the feeling of a clean slate.
If you're ready to go all-in with prevention skincare, try the Ultimate Age Defying Solution, marked down from $433 to $239 for the sale. You'll have everything from the brand's Transforming Pearl Serum and Triple Peptide Eye Cream to Time Defying Cream and Moisturizing Neck Cream — this will definitely be worth the investment for your skin. You can also opt for the popular Age Defying Power Duo, $99, to add to your everyday skincare routine.
You can also opt for a chic gift set like the Glitter & Glow Kit, which is on sale for $109.90 with products that'll leave your skin with a glowing finish, including the Luminizer Primer, as well as a iridescent cosmetic back to hold everything in style.
This season, give someone the ultimate beauty and wellness gift this season one of these Dr. Brandt kits; they'll love trying out these epic products. Now, scroll down to shop them all below.