Dove Just Launched The Most Luxurious Body Wash (& It Doubles As Shaving Cream)
Dove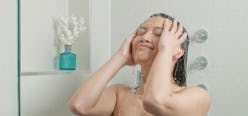 Let's be honest: As much as you may want to deny the fact, life moves at a rate that's faster than anyone's ready for. In order to keep up, you sometimes have to compromise in certain areas and double up in others, such as your daily beauty and skincare regime. Whether you're someone who can get out the door in less than 10 minutes, or you prefer to take your daily routine as a moment for the utmost self care, having a product that can conveniently get you ready for the day (or evening) and give you more time elsewhere is always welcome. And now that Dove's new Body Wash Mousse has officially launched, it's safe to say it will easily grab any woman-on-the-go's attention.
Set aside your standard shower gels and traditional soap bars for this new and innovative body wash. Made entirely with gentle cleansers, Dove's Body Wash Mousse comes in three different scents correlating to the primary essential oils in the formula: rose, argan, and coconut. When you use the mousse cleanser during your shower, you'll experience a creamy and luxurious lather, making it a great option for a shaving cream, too. With a two-in-one product like this, you'll be able to make your regular routine just a bit quicker — something any busybody can appreciate.
While it's the creamy texture of this mousse body wash that might grab your attention, it's important to look at the essential oils too. Argan oil, which can be found in many hair products but can also be beneficial in skin care as well. According to a Byrdie article from March 2018, the essential oil's original purpose was actually for skin, and has the power to moisturize dry skin and reduce any inflammation you might have.
You've probably seen rose oil among your skincare ingredients. The ingredient is primarily used to calm inflammation and reduce redness in the skin, according to an article from Elle.com. The oil also helps prep your skin for other products, making it the perfect option for those who have a morning routine.
Of course, there's also coconut oil. A near-viral ingredient in meals, skin care, hair and any other area relating to wellness, coconut oil has been both popular and controversial. Yet there are some qualities the essential oil has that you can't deny. According to this extensive list of coconut oil benefits on Allure from 2017, the ingredient is rich in fatty acids and absorbs quickly into your skin, leaving you with a radiant glow.
On board yet? Scroll down to shop Dove's latest Body Wash Mousses now.