DOSE Of COLORS' First-Ever Foundation Makes Shade-Matching Online So Much Easier
Courtesy of DOSE of COLORS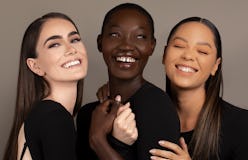 Ordering foundation online can be a gamble. Even if you squint at all the photos a brand has available, there's still no guarantee a shade will match your skin tone once it arrives in the mail. And while there is no magical promise sealed into each bottle of DOSE of COLORS' new Meet Your Hue foundation, the Instagram-famous beauty brand has switched up the online shade-matching game: Each Meet Your Hue foundation order comes with a swatch card featuring six other similar shades, allowing you to make sure the foundation you ordered is actually the best match for you.
And it's a smart move, since DOSE of COLORS' first-ever foundation offers up an expansive range. Released July 17 and retailing at $36 per bottle, it includes 42 shades across six shade categories — with each category offering seven unique shades. So, if you order number 123 from Meet Your Hue's "Medium Tan" category, you'll also receive a physical card with all of the "Medium Tan" category's swatches.
"Color, comfort, and versatility have always been at the core of DOSE of COLORS. The inclusive shade range of 42 was solidified after finding that different olive and yellow tones were missing in a collection of 36," explained the brand's Founder, Anna Petrosian, in a press email.
Moreover, the Meet Your Hue formula is vegan and cruelty free, and was made without talc, parabens, oil, and fragrances. The foundation itself is a medium-to-full coverage formula, and features a matte finish with a built-in skin-blurring effect. "We've been developing this product for over a year, testing each shade myself and perfecting each detail," Petrosian continued. "I'm very excited for everyone to try it."
Courtesy of DOSE of COLORS
Courtesy of DOSE of COLORS
DOSE of COLORS also launched the Seamless Beauty Sponge alongside Meet Your Hue — which will make applying the lightweight, buildable foundation even more effortless. The affordable $15 makeup sponge has a flat bottom and a tapered end; you can use the broader side across your cheeks and forehead, then switch to the pointed tip to smooth complexion products over harder-to-reach spots, like beneath your eyes.
Shop DOSE of COLORS' new Meet Your Hue foundation on the brand's website, or on Ulta.com starting Aug. 4. Below, both new products from DOSE of COLORS.