DONNI's New Resort Collection Just Arrived & It's Already Selling Out
DONNI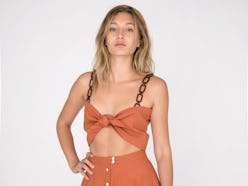 By now, you've probably already heard of DONNI. Or at the very least, you've seen the brand's stylish re-imaginations of the classic fleece pullover — which have already sold out on multiple occasions — along with other cozy loungewear pieces that have been taking over your Instagram feeds. The brand, which first popped up on editors' radars for its luxe silk scarves and hair accessories, forayed into its first ready-to-wear collection last spring with pieces that made everyone take notice. One year later and DONNI's resort 2019 collection has launched with a whole new roster of effortless pieces.
If the brand's past year of one sold out item after another is any indication, DONNI's latest collection is bound to follow suit — and fast. In fact, some parts of the resort collection are already marked as "sold out" on the brand's site, which means that if there's a piece you're currently eyeing, it might be time to add it to your cart.
The Los Angeles-based brand's most recent collection comes with pieces that were practically made with sunny destinations in mind. From smocked tube tops and silk bandeau scarves to breezy linen pants, DONNI has your entire vacation wardrobe all in one place — with chic woven handbags to match.
Create a matching set with the Linen Flora Pants, $196, and Linen Babe Top, which has removable tortoiseshell chain link straps and costs $114. If you want to keep the chain link trend consistent throughout your entire ensemble, add the Honey Tote into the mix, which has matching link straps as the top handle and costs $163. If you want more vacation-worthy tops, this Sole Tank, with its V-strap in the front, will be the perfect piece to wear on a daytime excursion or a warm night out.
Of course, it wouldn't be a collection from DONNI without pretty silk pieces to choose from, too. The Cannoli Scarf, $97, is a chic piece with a tortoiseshell ring and can be worn as a cool, silk bandeau top, or a pretty hair accessory. Just in case you can't get enough silk accessories in your life, DONNI has plenty to choose from in its resort collection. Opt for a Satin Dolce Headband to dress up any ensemble, or go with a classic Silk Chiquita whenever you need to pull your hair up. With the brand's assortment and color palette, you simply can't go wrong.
If your mind is already set on planning your next vacation, scroll down to see more of DONNI's resort collection.