The Silk Skirt Of Your Dreams Just Landed At Dôen (& There's A Top To Match)
Doen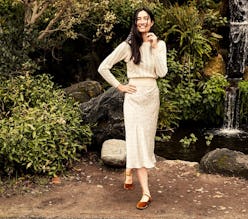 There's nothing like the spring season to get everyone in the mood to embrace a more whimsical side of fashion. Whether it's an endless supply of floral sundresses, candy-colored pastel shades, or the current trend of prairie-inspired silhouettes and prints, the latest pieces for the season (as well as the warm weather) have fashion lovers everywhere waiting in high anticipation for the moment they can finally put away their coats for the year. While there's a good chance that you've already added a handful of the season's biggest trends to your closet, you'll definitely want to make extra room for Dôen's Late Spring Collection.
Adored by cool girls everywhere, the brand has nailed the art of modern bohemian-inspired pieces unlike any other. Dôen's latest capsule collection, which launched in celebration of the official arrival of spring, features ethereal pieces with details such as ruffled edges, delicate embroidery, and lightweight materials that will move every time the wind blows, allowing you to create a truly romantic ensemble.
Combine those with the dusty color palette and it feels as though this collection was made with your dreams in mind. The Late Spring Collection also has a few 100 percent silk items, including the beautiful Bloom Skirt, a timeless slip skirt that could be the answer to your spring fashion prayers.
If you want a chic coordinated ensemble to wear with the silk skirt, add the Bel Top, which is available for $248, to your cart now. The short-sleeve button-down blouse can also be worn with everyday basics, such as a pair of jeans or shorts.
Looking for another top that will easily go with your wardrobe staples? The Didier Top, $298, features cascading ruffles along with panels of floral lace for a vintage-inspired touch. Or, if you want to add a classic silhouette with a modern update to your closet, the ultra-wide Valentin Pant will easily make a statement and costs $148.
And of course, you can't go wrong with one of Dôen's spring dresses. Completely embodying the essence of the brand, these dresses, such as the Bijou Dress, $325, or the Valencia Dress, $348, will have you feeling both charming and sweet all season long. However, if you want to wear something that feels a little more casual, opt for the Joni Dress, which was made for any fashion lover appreciative of 1970s-era styles.
Now, scroll down to shop more from the label and create the romantic spring wardrobe of your dreams.