Dôen's New Collection Has Everything You Need For Fall & The Timing Couldn't Be Better
Courtesy of Dôen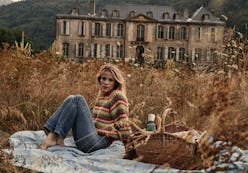 Transitioning between the summer and fall months can often put added pressure on your morning routine, what with the unpredictable weather and often conflicting daily forecasts. As you prepare to play Russian roulette with the elements, it's likely that you're looking to invest in light layers that can be worn under (or over) just about anything in your wardrobe. Seemingly designed with this idea in mind, Dôen's Fall 2019 collection is available for pre-order on Aug. 27 — and just in the nick of time.
Known best for its dreamy silhouettes, the California-based brand switched gears only slightly for the new season, incorporating quilted and plush outerwear into the already strong lineup of light prairie dresses and ruffled blouses that you've come to expect (and look forward to). The label chose the south of France's Château de Gudanes as the backdrop for its latest look book, which was more than appropriate considering its whimsy and use of iconic references — citing Kate Moss and Brigitte Bardot as its muse.
The largest collection yet, the line is filled with muted fall prints, tried-and-true favorites (think Mary-Jane slippers and well-tailored jeans), and a subtle vintage vibe, all of which will work hard in your closet during these trickier months and help ease you into the cold weather ahead.
It's the accessories in this collection, though, that really set it apart from the rest. The $28 bandanas, in particular, are a quick and easy way to elevate even the most basic outfit — whether you tie it around your head as seen in the campaign, or loop it around the handle of your favorite bag as a bold accent piece. The romantic print doubles as a neutral, pairing seamlessly with both cool and warm color palettes, meaning you can wear them all year long if you so choose.
But for now, you might feel like your closet is in constant flux as you go back and forth about whether or not it's too soon to break out your heavier jackets. And in hopes of hanging on to summer just a tad longer, you might even catch yourself reaching for the collection's airy frocks and slip dresses. Just be sure to invest in the hand-knitted sweater, $498, and longline cardigan, $428, as well, for those surprisingly brisk mornings.
The same goes for founder and designer Katherine Kleveland's tactful outerwear offering (available in a later release), made in classic silhouettes with flowery patchwork exteriors and tonal houndstooth check that feels reminiscent of the location. The chunky-knit cardigan is woven with the same colorful stripes found throughout the rest of the collection and will feel especially cool paired with a slinky slip dress and leather boots. Expand your lineup of seasonal staples with the jewel-tone sweater, too, which can be worn by itself or thrown over or under any one of the brand's billowy tops.
As summer comes to a close, it's the thought of fall dressing that will keep the curation of your cold-weather wardrobe at the front of your mind. In the meantime, while you're waiting for the sun to set in the golden hour, get a head start by adding just the necessities to your cart ASAP. Shop some of the best pieces from the first drop, below.