This Upcoming Disney-Inspired Makeup Collection Is About To Take Over Your Newsfeed (& It Drops Soon)
Luminess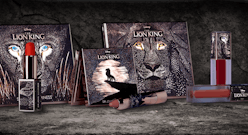 You may be new to the beauty brand Luminess, but its upcoming makeup collection is about to dominate your Instagram feed. (That is, if you haven't yet scrolled by teasers for it). Although it's not yet available, there are three things the internet's already obsessed with when it comes to the limited-edition collection by Sir John x Luminess: Disney's The Lion King, gorgeous makeup, and the queen herself — Beyoncé.
But it may be dropping even sooner than you realize. The Lion King Collection by Sir John x Luminess will arrive on the brand's website June 15, followed by a release on Ulta's website and at ShopDisney.com on June 16. Those looking to swatch the brilliant shades should keep an eye on their local Ulta stores, too — select locations will also begin carrying the collection on July 1.
Can't wait for the release date to get here? You can preview The Lion King Collection by Sir John x Luminess online just by visiting the brand's site. There, you'll see just how extensive this collection is — there is a sculpting palette, an eyeshadow palette, a highlighter, and multiple styles of lip colors. The packaging for the collection is noteworthy, too: Iconic elements from The Lion King, like scenes and characters' faces, decorate the cosmetics. Prices start at $24 — for the bullet lipsticks, liquid lip colors, and the lip balm — and go up to $42 (the price of both sculpting and eyeshadow palettes).
The collection's Disney inspiration goes beyond just the title, as well. From the cat-eyed looks in the campaign to the eyeshadow palette's African landscape-inspired shades, the spirit of the movie permeates the collection. However, so does the talent of Beyoncé's makeup artist, Sir John, who helped to create the new pieces. (Side note: Queen B is the voice of Nala in the upcoming live-action remake, naturally.) Luminess' website explains that the original Lion King movie had been a favorite of Sir John's growing up, and that he'd felt that connection grow as he worked throughout Africa.
Make sure you visit Luminess' site June 15 to grab the collection, though — because with the upcoming movie coming out (and Beyoncé's fans waiting) this one will definitely sell out. Ahead, a preview of the Sir John x Luminess collection.