Dior Just Revealed A New Version Of This Iconic Bag & You're About To See It Everywhere
COURTESY OF DIOR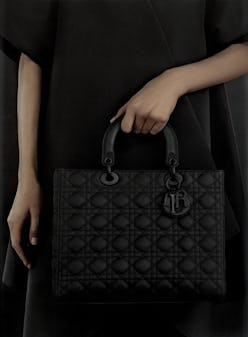 For some, purchasing bags for a new season means securing styles for every occasion; for others, it means taking a more minimalist approach and hunting for one wear-with-anything style. But, no matter which camp you fall into, there's no denying that a chic black bag is an essential component to any wardrobe. And, as luck would have it, Dior's new Ultra-Matte collection is here to help you bring one into your closet. The fresh additions to the luxury lineup of highly coveted handbags will capture your heart with their understated stylish look that finds the balance between being both photo-worthy and timeless.
While each season often brings new bag shapes from brands, there's something to be said about giving beloved silhouettes a new twist. After all, these shapes clearly resonated with shoppers — so why not expand on the offering to provide fans with even more options? And that's exactly what Dior has done with its newly launched collection, which brings a black, ultra-matte finish to three of the brand's most iconic bags: Lady Dior, Saddle, and Diorama.
For a classic, sophisticated silhouette, turn to the Lady Dior. Originally launched in 1995, the structured, quilted style's new sleek black design makes it even more likely to be a bag you'll reach for in the years to come. Ringing in for $4,500, the Lady Dior Ultra-Matte Bag is also available in a larger tote version for $5,100 as well as a clutch for $1,700.
However, for those who swoon for Dior's Saddle shape — a fashion-girl favorite since its creation in 1999 — you'll be pleased to see you can scoop up a new iteration of the highly Instagrammed bag for $3,600. That said, out of the trio of styles, this one has the widest range of size options for you to choose from. So, make sure to check out the belt bag, belt clutch, and card holder, as well as the wallet on a chain clutch and the mini-bag — all of which bring super-chic vibes with their all-black designs.
Rounding out the group is the Diorama, a bag that made its debut in 2015 and is arguably the most graphic of the three. Give your look a little edge with either the Ultra-Matte Small Bag for $3,500 or the chain detailed clutch for $1,750. And, snag the $610 wallet to keep your cards organized in either bag.
Continue on to shop the latest versions of three iconic Dior bags before everyone else, and head to the site to view the rest of the sizes you can bring into your collection.