This New Dior Necklace Is The Non-Dainty Way To Wear Pearls This Fall
Courtesy of Dior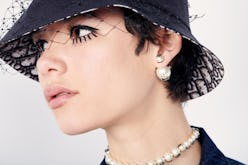 Pearls — in any form — have always been considered classic pieces that belong in anyone's box of baubles. However, in the past year or so, these timeless pieces have taken over trends unlike any other — to the point where they've even made their way into the beauty realm. It only makes sense, though: As a favored style among minimalists and maximalists alike, pearls have a natural way of adding a touch of polish to any ensemble. And since they first made their way back into the limelight of trends, pearls have been seen in daintier styles and settings. But if Dior's new Teddy-D choker proves anything, it's that pearls are about to get a whole lot bolder.
By now, you've probably become more than familiar with classic styles of pearls — whether they've come strung together as an elegant necklace or as a minimalist-approved pair of studs. However, with its new Teddy-D choker, Dior is exploring the more daring side of these glistening gems. Available for $990, the French fashion house's new necklace features stars and clovers in black and multicolored crystals, creating an unexpected juxtaposition between a cool edge and timeless elegance. In other words, the jewelry trend — which is typically seen as a symbol of delicate sophistication — has now become strong.
While Dior's Teddy-D choker is a decidedly bold alternative to the pearls you may typically wear for everyday occasions, you'll quickly discover how versatile it can be. Wear the necklace with a classic button-down Oxford shirt and a pair of ankle crop jeans to lean into the timeless essence of the Teddy-D choker's pearls. Or, if you have a fall wedding to attend in the coming weeks, let this choker be the focus of your ensemble and style it with a classic silk slip dress.
You can wear this statement necklace for everyday occasions, too. Sport it with an easy and lightweight chambray shirt and wide-leg trousers in the earlier weeks of fall. And when the air gets crisp and cool, layer it over a turtleneck sweater with a chic midi skirt for the office.
If you're ready to update your jewelry box with a new style of pearl jewelry, scroll down below to add Dior's new Teddy-D choker into your collection.