Dior Reformulated This Best-Selling Skincare Product Again — Here's How It's Different
DIOR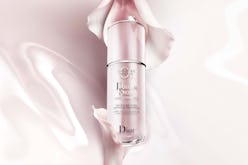 When a brand has a best-selling product, it would be easy to just sit back and let it be. After all, why change something that's clearly doing well? However, when it comes to the Dior Dreamskin Care & Perfect, it isn't as much about making a change as it's about evolving the original so it can provide even more skin-changing power.
Originally launched in 2014, Dreamskin became a global best-seller for the brand with its formula that worked to add radiance and provide a blurring effect on the skin. Then, in 2016 the product was advanced again. And guess what? It maintained its international best-selling status. Now, after 800 new formula tests since the first go-round, Dior released its third iteration for $150.
For the new version, the beloved serum has been reformulated to strengthen its ability to smooth the complexion and give you a luminous veil. On top of that, it's been enriched with ingredients like shea butter to help soften skin, vitamin B3 to help color correct and add radiance, and French Alpine to help hydrate.
"The idea of perfection is integral to the idea of health, and consequently, to the concept of skincare." said Edouard Mauvais-Jarvis, Dior Environmental and Scientific Communications Director, in a press release from the brand. "The technological feat of the new Dreamskin is that it has pushed the borders of skincare performance to transform the intrinsic quality of the skin."
When you apply the velvety serum to your face, the brand promises you'll quickly see a change to your skin's texture as well as the visibility of your pores. Meanwhile, as you continue to use the product, it's designed to help minimize the appearance of dark spots and redness. In other words, it's created to be a short-term fix along with progressive long-term benefits.
And lucky for longtime Dior skincare devotees, that's not the only newness from the brand, either. To really give your face a quick refresh, consider scooping up the newly revamped Dreamskin 1-Minute Mask for $75, too. Using AHAs, the Opilia and Longoza complex, and the recent addition of jojoba oil, the peel is made to gently exfoliate and moisturize and leave you with smooth, bright skin in a short amount of time.
Continue on to see and shop the two new additions to the Dior beauty family below.