Dior's Newest Bag Is The Fashion-Girl Way To Do Personalized Accessories
Courtesy of Dior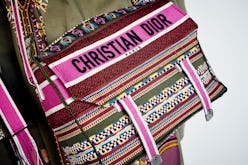 When Dior announced the return of its iconic saddle bag, influencers and editors alike were giddy with excitement. It's easy to see why: With its classic but unexpected shape, the handbag is one that quietly draws the attention of any passerby. However, the time has come for Dior's new DiorCamp bag, to steal the spotlight — and this time the design house is letting fashion girls truly make it their own.
The DiorCamp bag, which debuted at the label's Cruise 2019 show, is a messenger bag that has a cross-body strap, a flap on the top of the bag, and two buckles on the front panel. Though the bag is already available in the brand's logo-laden oblique fabric, there are more colorful and casual iterations of the bag — made with Dior's intricate and unique savoir-faire embroidery technique — for the Spring/Summer 2019 collection.
Of the three new versions of the DiorCamp bag, two feature intricate embroidery details that feel reminiscent of the American Southwest. One style boasts a color scheme including turquoise blue, indigo, marigold yellow, maroon, and touches of red and white. The other version showcases magenta, red, olive green, and accents of blue and yellow. Put yourself in the mood for the warm weather months with these colorful bags, or opt for the cool and edgy army green style, which also has embroidery similar to hand drawings for a grunge appeal.
In addition to the new styles, Dior will be expanding ABCDior, the embroidery personalization service that has been used on the classic Dior Book Tote, to the new DiorCamp messenger bag beginning April 9 at the Dior flagship in Milan during the Salone di Mobile (the service will then be rolled out to select Dior stores around the world).
It's one thing to have a stylish designer bag in your arsenal of accessories, but adding your name to it (or any other level of personalization you can think of) will take the idea of owning your bag to an entirely new level. After all, who wouldn't want their name on a piece of luxury?
Using the same embroidery technique that's found everywhere else on the bag, you can add the letters of your choosing to your Dior purse, whether it's your full name, initials, or something else that feels significant to you. In a world of fashion where many are eyeing the same products you are, nothing feels better than an added level of personalization. Once you've added your unique touch, there's no doubt that you'll want to wear your DiorCamp everywhere you go.