Dior's Fall Makeup Collection Features A Luxe Version Of This Major 2019 Nail Polish Trend
Dior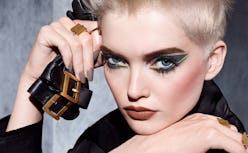 When you think of a traditional fall makeup palette, your mind first likely goes to those classic jewel-tone hues and warm neutral shades. And, while you can easily go that route again, if you're open to switching it up for the season, look no further than Dior's Fall 2019 Power Look collection. The luxury beauty brand's latest range is bringing a bold, edgy twist to fall beauty bag must-haves, while also proving that lime green isn't going away anytime soon — but more on that later.
Inspired by a modern metropolis, the collection brings together the colors that make up an urban palette. Not only does the Dior collection feature the neon colors of the city lights, but also the high-impact luxe hues and sleek shades cities are known for. The combination of colors within the range of products will undoubtably allow you to create endless head-turning makeup looks all season long.
While there's no bad place to begin your shopping, the 5 Couleurs eyeshadow palettes (for $63 each) are a good place to start — especially if you're eager to bring the essence of the collection into your routine with just one purchase. Definite standouts in the mix, the versatile palettes offer a combination of the neutral hues and the bold pops of color you would find in a cityscape; think a sky blue alongside a concrete gray, smoky purple, and mineral taupe.
But getting back to the staying power of lime green. If you're wondering where the citrusy shade comes into play in this collection, first take a look at the Diorshow Pro Liner. Available in both the on-trend hue as well as a matte orange for $33 each, the waterproof liner will bring a vibrant dose of color to your lids. To really make an impact, layer the liner over the steel, mauve, graphite, or taupe shades of the Diorshow Liquid Mono cream eyeshadows.
However, the liner isn't the only product in the bunch that'll let you add the punchy shade to your look. Bring the eye-catching green hue to your fingertips with a bottle of the $28 Dior Vernis "Rush Hour." The nail polish is one of four gel-shine, long-wear lacquers in the collection, and it'll look great against your camel and gray knits when the cooler temperatures roll in.
Continue on to see and shop a selection of products from Dior's Power Look collection, and head over to the site to view the rest.