How Design.ME's New Serum Works To Give You Stronger, Shinier Hair
Design.ME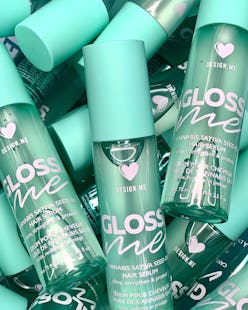 It's no secret that cannabis is taking the beauty industry by storm. Whether it's in the form of CBD oil-infused skincare regimes or makeup products to wear everyday, ingredients derived from this plant are slowly but surely becoming a regular ingredient in beauty and wellness products. And if you haven't already, you can incorporate cannabis into your regular haircare routine with the help of Design.ME's new Gloss.ME hair serum.
Design.ME's latest product, which is available for $24, is an easy-to-use product designed to help strengthen your hair while also making it fuller and healthier. It's made with a blend of of cannabis sativa seed oil, essential fatty acids, vitamins A, C, and E, and oils such as rice bran oil and argan oil, so as you run the Gloss.ME serum through your strands, you'll be giving your hair a touch of shine and a healthy dose of moisture.
If you aren't entirely familiar with cannabis sativa seed oil, the natural oil is a hemp-derived ingredient, and, according to an article on Allure, has soothing, anti-inflammatory properties. And though it's an ingredient often found in skincare products, the beneficial properties can also be applied to your hair. In this case, it's here to help moisturize and strengthen strands.
Outside of the cannabis sativa seed oil, this serum contains a blend of oils to help keep your hair soft and silky all day long. By now, you've probably heard of argan oil, which is commonly found in hair and skin products and, according to an article from Byrdie in 2018, is perfect if "you're looking to make hair softer and more manageable." That, blended with other shine-inducing ingredients like rice bran oil, make for a powerful combination.
Design.ME isn't the first to incorporate cannabis sativa seed oil into its products, but it's certainly one of the early adopters of this growing trend, and it makes sense. The brand makes it a point to create unique formulations (along with "special features and colorful branding") in its products that make it practically irresistible to try its latest and greatest. And that, combined with so many reliably good ingredients in this new hair serum, makes for a product you don't want to wait to try.
Luckily, you don't have to — because it's finally out and available to shop. Keep scrolling to grab the Gloss.ME serum now and try this exciting new product for yourself.
Readers should note that the regulations and data surrounding CBD are still developing. As such, the information contained in this post should not be construed as medical or legal advice. Always consult with your doctor before trying any substance or supplement.