This Super Expensive Eames Lounge Chair Is On Sale At Design Within Reach Right Now
Herman Miller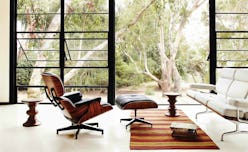 The iconic Herman Miller Eames Lounge Chair has been the inspiration to many replicas over the years. You know the one: the supple leather statement chair, cased in smooth wood. Owning an authentic Eames chair is the Holy Grail to mid-century modern fans, and typically comes with a price that matches its status. But instead of rummaging Craigslist, shop the Design Within Reach Herman Miller Sale, where the perfect Eames design is on sale for close to $1,000 off the original price.
During the Herman Miller Sale, The Eames Lounge Chair and other signature Herman Miller designs are 15 percent off on the modern furniture website. It's a windfall opportunity for mid-century modern lovers: Besides Herman Miller's official website or the Museum of Modern Art's online store, Design Within Reach is one of the few places to buy an authentic Eames chair online.
But it's time to discuss exactly how much you can save during the Herman Miller sale, because you've probably been waiting for discounts like this for long enough. The standard Eames Lounge Chair and Ottoman in walnut wood and black Vicenza leather originally retails for $5,295, and is on sale for $4,500.75. And though a 15 percent off sale can seem small at first, that's a massive $794.25 in savings. Designers have been styling the Eames Lounge Chair for years, and it always looks timeless tucked into the corner of a living room with plenty of reading material at hand.
Want the status chair without the basic black and walnut colorway? Picking another color of Vicenza leather won't change the $4,500.75 price if you stay with walnut wood and the standard size. Marry impeccable design and bold color by ordering your Eames Lounge Chair in red Vicenza leather, or elevate the chair's feminine vibe by buying it in the warm ivory colorway.
Buying from an authentic supplier of new Eames Lounge Chairs means you can customize the iconic chair to flawlessly fit your space. Do you need the Eames chair in the tall size, with luscious palisander wood, and upholstered in grayish green mohair fabric? Not only can you order exactly that chair from Design Within Reach, it's on sale at $5,860.75 from $6,895.
Though it's possible to wax poetic about the Eames Lounge Chair forever, don't miss out on scoring other quintessential Herman Miller designs while they're also on sale. While not as luxurious (and expensive), the Eames Molded Plastic 4-Leg Side Chair may be as replicated as the Eames Lounge Chair, with an instantly recognizable modern silhouette crafted from contemporary, easy-to-clean polypropylene. The white shell and chrome base combination can fit into the corner of any room or serve as mod dining room chairs, on sale at $293.25 from the original $345 price.
The Herman Miller designers gifted the world much more than just coveted chairs, including benches, coffee tables, and sofas. Furniture recognizable only by name, like the Noguchi table and the Nelson Marshmallow sofa, are on sale and ready to be proudly displayed all over your home. Ahead, nine of the groundbreaking pieces from Design Within Reach's Herman Miller Sale.