Dermstore's Harry Josh Sale Is Happening Now, & Yes, The Cult-Favorite Dryer Is Included
Grosescu Alberto Mihai/Shutterstock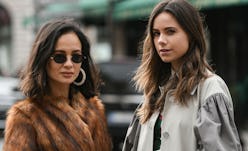 The Instagram page for Harry Josh Pro Tools could make a fan out of anyone, even if you'd never heard of the hair tools brand before. It has a snapshot of the celebrity stylist Harry Josh himself using the brand's signature mint green tools to give Olivia Wilde soft waves, and a video of him brushing Ellen Pompeo's hair pre-Vanity Fair Oscar party. There is even a video of Cindy Crawford styling Josh's hair with the iconic Harry Josh Pro Tools hair dryer. Which, by the way, is on sale until March 25 during Dermstore's Harry Josh Sale — for 25 percent off.
Which means you can get the Harry Josh Pro Tools Ultra Light Pro Dryer for $261.75, instead of the regular $349.00 price. Clicking away now to go buy it? Understandable. Still reading — and trying to figure out what makes the cult-favorite hair dryer worth the regularly steep price tag? Also understandable; because sure, it's the secret behind Kaia Gerber's hair, but will at-home users be able to get the same luxe locks without a stylist on-hand?
Short answer: It does bring you one step closer to supermodel hair. While there are lots of great hair dryers on the market, Harry Josh Pro Tools' dryers are revolutionary, especially the Ultra Light model. The motor speed clocks in at 94 miles per hour, while the entire dryer weighs under one pound. The dryer is energy efficient, quiet, and easy to use; it even has a button that allows you to turn on and off the ion technology, which is the difference between a sleek at-home blowout and volumized, texture-filled hair.
There are plenty of other tools from the brand on sale if you are already the proud owner of the cult hair dryer. Originally $175, the one-inch size of the 2-in-1 Ceramic Marcel Curling Iron is marked down to just $131.25; the innovative iron is a marcel wand, which means it doesn't open and close using a spring mechanism. Instead, you use the sleek black bar to operate the wand, allowing it to softly curl your hair.
And bargain hunters can rejoice, too; there are hair styling accessories in the sale for $15 and under. Yes, seriously. Find some of those incredible deals and more by scrolling down — a few of the best finds from Dermstore's Harry Josh Sale are below.