L'Oréal Just Announced Another Brand That's Cruelty Free Certified — Here's What It Means
Dermablend Professional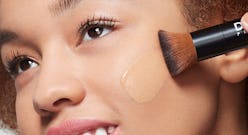 One of the industry's dermatologist-favorite beauty brands just became even more accessible. Beginning Aug. 20, Dermablend Professional is certified cruelty free by PETA, joining the ranks of other previously established cruelty-free L'Oréal brands like IT Cosmetics, NYX Professional Makeup, and Urban Decay. And that's not all: Dermablend will be kicking it up one notch further in 2019 by becoming an exclusively vegan-friendly brand, reformulating a handful of products that will arrive later this year.
"It was important to all of us at Dermablend Professional and our consumers to seek third-party certification to validate and reinforce our commitment to cruelty free," Malena Higuera, general manager at Dermablend Professional, tells The Zoe Report over email. "We are thrilled to announce that as of now we are manufacturing 100 percent vegan-friendly products as part of our broader commitment to ensure everyone feels secure and empowered to choose Dermablend Professional."
"PETA is thrilled to welcome Dermablend Professional to our Beauty Without Bunnies cruelty-free list of compassionate companies that refuse to allow tests on animals for their products anywhere in the world," reads a quote from Amanda Nordstrom, company liaison at PETA's Beauty Without Bunnies program, in a press email.
"Because we do not test our products and ingredients on animals, reformulation was not necessary in order to obtain the PETA cruelty-free certification," Higuera notes. "However, we are updating some formulas in order to become a 100 percent vegan-friendly brand. Over 80 percent of Dermablend Professional's current product portfolio is already vegan friendly and the Cover Creme Maximum Coverage Foundation, Quick Fix Concealer, and Quick Fix Body formulas that are being updated will be very similar to the existing formulas. The only ingredient that will be phased out in these three products will be beeswax, which is being replaced by a synthetic beeswax that maintains each product's maximum coverage that is never cakey."
So, when will you be able to get your hands on Dermablend's certified products? "As of today, all Dermablend Professional products are PETA-certified cruelty free everywhere they are sold," Higuera notes, adding that the three newly vegan products will be arriving on shelves over the next few months.
"You may still see some products in-store that contain beeswax as we transition out of these formulas, however, there are several products that are already vegan friendly which you can shop for today including Flawless Creator Liquid Foundation Drops and Smooth Liquid Camo Foundation," Higuera adds.
You can read more about Dermablend's commitment to cruelty-free and vegan-friendly beauty — and shop its certified cruelty-free products — by visiting the brand's website.